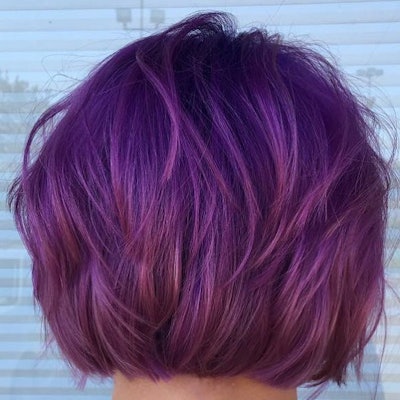 Colorist Dustin Stone recently helped transform his client with this bright, bold look. Perfect for summer, this grape-colored 'do is sure to make your guest stand out - in the best possible way! Recreate the look in the salon with Dustin's how-to, below!
Get the Look:
Client had previous chunky highlights and a natural level 6 base. Clarified with MalibuC UndoGoo, then did a full Crystal Gel service 45 min under a very warm dryer. Prelightened using Schwarzkopf Professional BLONDME, 30 volume + 1/8 Olaplex, lifting to a clean level 10.
Toned using redken shades EQ 9p.1/8 olaplex
Based using Schwarzkopf Vibrance 30g 9.5-1 10g 0-22 dot of 1-0 1/8 olaplex 6 volume.
Melted base into 30g 9.5-1 3g 5-99 1/8 olaplex 6 volume.
Olaplex #2 at bowl for 20 minutes. Shampooed using Davines Melu shampoo and Conditioner.
Finished with Schwarzkopf BC Bonacure Extra Sealer, Osis+ Body Me Volume Bodifying Volume Serum, and Osis+ Elastic hairspray.
Find Dustin on Instagram at @Dust1nSt0ne.