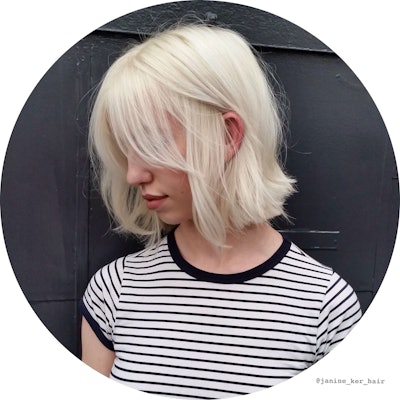 Hairstylist Janine Ker of Salon Aguayo in Pasadena, CA recently took her client from natural, dark blonde to gorgeous, pure-white platinum. The end result was a cool, icy blonde that Janine paired with an on-trend blunt bob for a chic finish. Recreate this stunning look on your own client with Janine's formulas and how-to, below!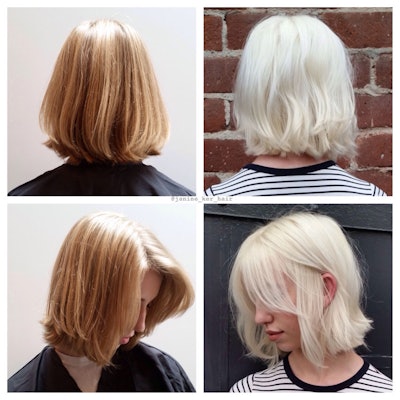 Get the Look: Color
Says Janine, "Client's natural base: A perfect virgin level 8 with minimal warmth; fine hair with good density.  
"Application: I sectioned her head into 4 quadrants, for control, and began my own version of the Paul Mitchell 'Platinum Card Technique' (placing the ENTIRE head in back-to-back foils, eventually pulling them down to expose the root, applying on the root and processing the root to finish at the same time as the hair in the foils). Starting off in the back sections (I like to start in the back so I can rinse as I go, if needed), alternating from left to right (to keep lift balance), I placed thin horizontal slices into back-to-back foils with L'oreal Professionnel Infinie Platine Lightener with 30 vol. (off the scalp ratio). In this case, her hair lifted easily and so I had to 'multi-task' my processing by slightly pulling down the foils that were done, and applying my on-the-scalp ratio (20 vol.) to the first foils I put in as I completed the front. Eventually, I did this to the entire head, processing at room temperature, no heat.  
"When it was time to rinse the entire head, I created a bleach wash by adding shampoo and let that sit for 5 minutes, mainly on the ends, to ensure their brightness. After rinsing that out and shampooing, I used Kerastase Resistance Concentre Vita-Cement (an intensive reconstructive treatment for weak or damaged hair), processed and rinsed."
NOTE: Says Janine, "This client does not require toner… but she does use Redken Blonde Idol Custom Tone Violet Conditioner at home. I know that no toner is not a usual case, but I try to lift her as much as I can, healthily and, in her case, without much effort to get that perfect natural tone."
Get the Look: Cut & Styling
"My client wanted a blunt bob," says Janine, "so I gave her that by securing a standard bob perimeter and then going through the entire haircut again and slightly texturizing the ends.
"I applied Redken Full Frame 07 mousse at the roots and used Kerastase Ciment Thermique (leave in conditioner/heat protectant) to her mid-strand and ends.
"I then rough-dried the entire head to 100% dryness, before using a 1-inch wand on low to create bent curls. I used Kerastase Spray Porter (sea salt spray) to set them before using a warm blow-dryer to blend the set together."
For more from Janine, follow her on Instagram @janine_ker_hair.