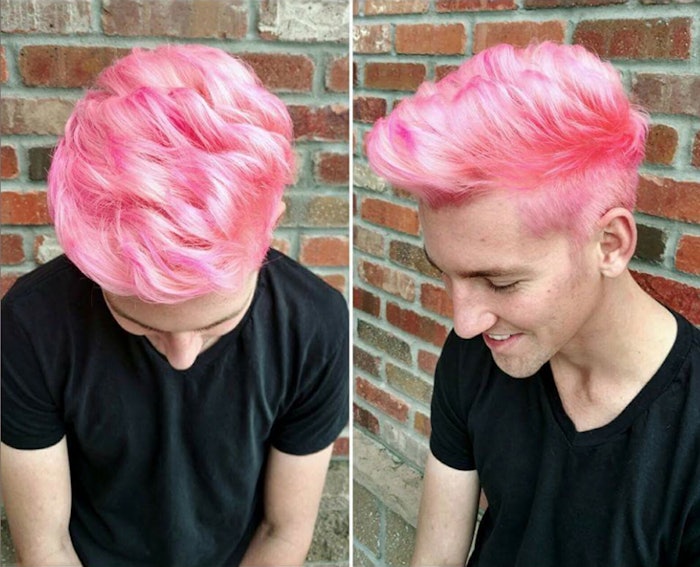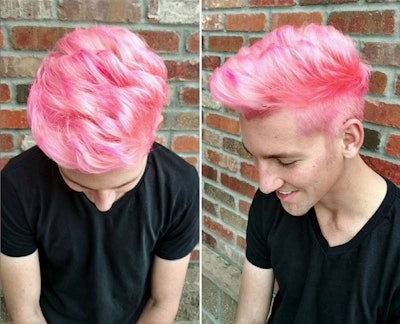 The men's colorful hair trend is in full swing (Exhibit A: Justin Bieber), and hairstylist Sierra DeJong proved that guys can rock rainbow-colored locks just as well as the ladies when she helped her client achieve this bright, cotton-candy-pink hair color.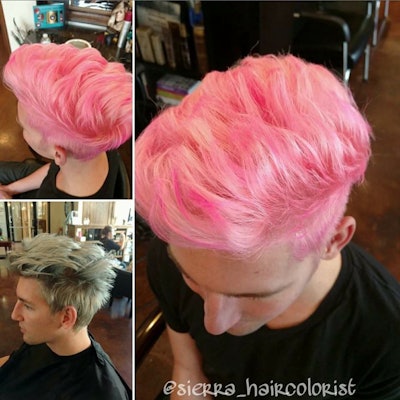 "Coloring is my passion," says Sierra, who is a full time stylist and co-owner of Omni Hair Studio in Bozeman, MT. She created this fun, multi-dimensional hue, blending together various shades of hot, pure pink and pops of pastel for a spun-sugar look. Help your own client achieve this cotton candy hair color with Sierra's formulas and how-to, below!
Get the Look:
"I started with L'anza Ultimate Treatment with three pumps of strength," says Sierra.
"On dry hair, I pre-lightened with L'anza Powder Lightener with 20 volume - re-growth and sides first. After 5 minutes, [I applied it] to ends until level 10 platinum color was achieved.
"Rinse.
"Color formula: mix of Joico Soft Pink and PRAVANA Locked-In Pink and PRAVANA Clear. I applied color to sides first, then just the first inch of re-growth area. Then, I free-hand hair-painted pieces through the top. I let the color sit on for about 25 minutes under a cap, no heat.
"I washed with L'anza Color Care Shampoo and Conditioner, and styled."
For more from Sierra, follow her on Instagram @sierra_haircolorist.