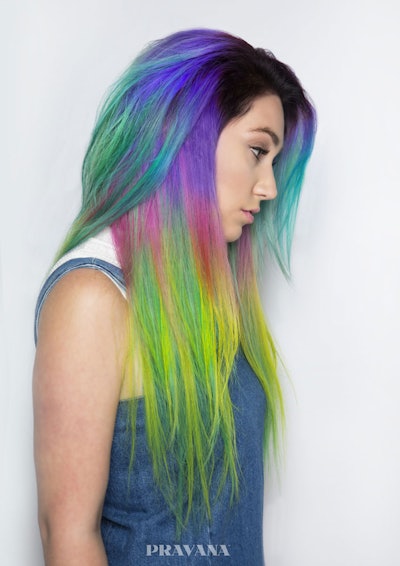 PRAVANA Guest Artist Rickey "Hair God" Zito, the stylist who brought tie dye hair to life, has created an innovative, new hair color technique: HyperColor. Using custom creations of VIVIDS, PASTELS and NEONS hair color for the longest-lasting, brightest results, Zito melts the vibrant shades into one another for a stunning, multi-dimensional effect known as HyperColor hair. The colors radiate from the dark base and brighten as they expand away from the root, alternating between color combinations for optimum movement.
To create a great base for this gorgeous #rainbowhair look, Zito did a Rusted Root look, incorporating the rooted and silver hair trends using PRAVANA ChromaSilk Hair Color Crème and Express Tones in Ash for a silky, silvery finish before applying the VIVIDS colors.
To maintain HyperColor hair, protect it with the VIVIDS Color Protect after care line, complete with a gently cleansing sulfate and salt-free shampoo, a moisturizing conditioner and Sealing Spray.
CREDITS
Colorist: Rickey Zito
Model: Erika Brueckner
Makeup: Amanda Evert
Wardrobe: Caisa Airmet
Photographer: Huck Hinshaw