Brightly colored, ultra-vivid rainbow hair has emerged as one of the biggest trends over the past several years. Help your client take the #UnicornHair trend to new, literal heights this Halloween with this bold costume from PRAVANA Guest Artist Toni Rose Larson and PRAVANA Stylist Jamie Muniz. Vibrantly-colored strands in an array of rainbow colors, paired with metallic clothing and topped off with a bold unicorn horn headpiece from Daisy Viktoria make for a fun, customizable Halloween look.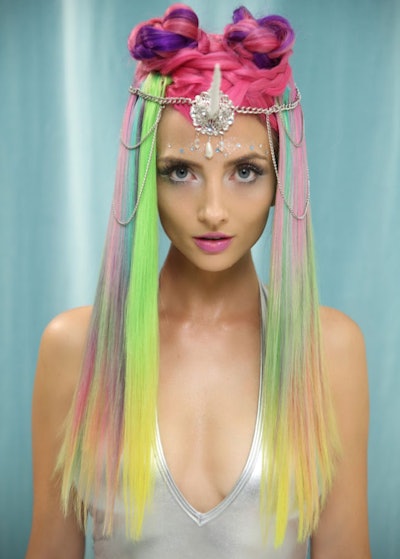 Get the Look:
1. Custom-color your favorite hair extensions or wig using PRAVANA VIVIDS. Toni Rose Larson used a combination of VIVIDS Locked-In and PASTELS with just a touch of NEONS for this multi-colored fantasy look on a Halo Couture extension piece. The formulas she created for the blended rainbow hair look are:
2oz PASTELS Mystical Mint + 2oz NEONS Green
2oz Locked-In Yellow + dot of VIVIDS Clear
2oz PASTELS Blissful Blue + 1/2oz NEONS Blue
2oz PASTELS Luscious Lavender + 1/2oz NEONS Pink + dot of VIVIDS Violet
2oz Locked-In Pink + 1/2oz NEONS Pink + dot of VIVIDS Clear
2. Meanwhile, Jamie Muniz incorporated braids and twists in the hair for a unicorn-inspired style, and secured with NEVO Super Shape hairspray for all-night hold.
3. Transform into a mystical creature with a glamorous outfit! Think light, soft fabrics in white or silver for an ethereal look. This bodysuit from American Apparel adds a perfect amount of shimmer to the costume.
4. Complement your VIVIDS hair with makeup. Silver eyeshadow, rhinestones, a bright lip and fine glitter combined with a flawless base will turn you into a perfect fantasy creature. Add wispy, natural-looking false lashes for a doe-eyed look.
5. Don't forget the most important part- the horn! This unicorn headpiece from Daisy Viktoria brings the entire look together.
CREDITS
Colorist: Toni Rose Larson
Stylist: Jamie Muniz
Makeup: Amanda Evert
Model: Caisa Airmet
Photos: Huck Hinshaw