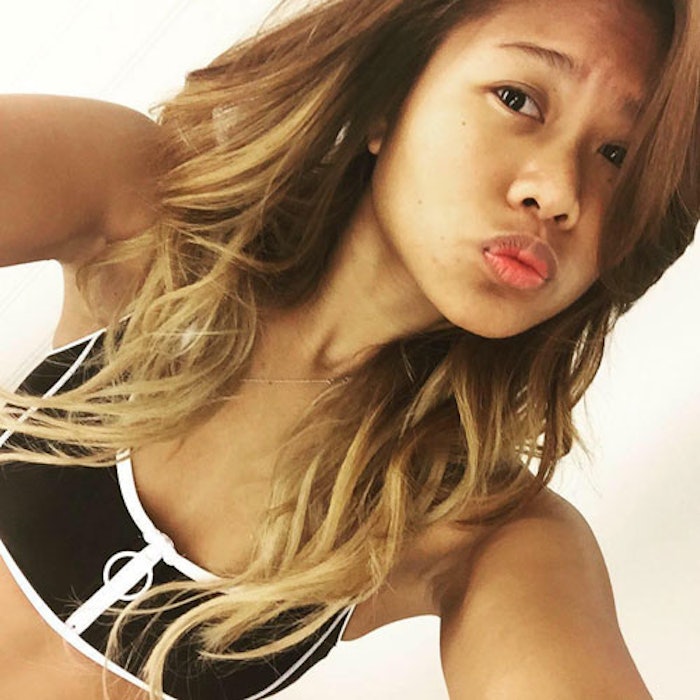 Every colorist knows it's all but impossible to take a client from blackest-black haircolor to blonde in a single step, but that doesn't mean it can't be done with patience and proper care. Stylist Dustin Stone experienced this when a guest of his wanted to switch out her dark color for a chocolate-to-golden-blonde ombré. Over the course of four weeks, Dustin was able to help his client achieve the haircolor she wanted, all while maintaining the health and integrity of her locks.

Says Dustin, "Here's a little back story first: [this client] started coming to me about 3 years ago. She started off [with the very basic formula of] 1-1 Schwarzkopf Professional Igora Vibrance and 6 vol., which is as black as black as black as you can get! Well, she brought me a photo of a really rich, chocolate brown and wanted that color - except she wanted ombré with the chocolate brown as the base, fading into a golden blonde. After many hours of lightening and waiting, we finally achieved the chocolate shade. So I then sent her home with Bonacure Fibre Force Shampoo and Conditioner. Four weeks later she came back for the golden blonde; I didn't think we were ever going to get there, but we did!"


Dustin with his client before the transformation
Check out Dustin's formulas/how-to for creating this look, below!

Get the Look:

APPOINTMENT ONE
1. Says Dustin, "[During] her first visit, we began the lightening process using Schwarzkopf Professional Igora Vario Lightener and 30 vol. After 2 applications we had her at a very brassy, bright orange.

2. "I applied Schwarzkopf Professional Igora 6-12 for the first brown look, then set her up for a 4-5 weeks later appointment to begin lightening her ends more."
Dustin's client after the first appointment

APPOINTMENT TWO
3. Says Dustin, "During the lightening process for the ombré, I applied Schwarzkopf Professional Igora Vario extra 30 vol. in v-sections, saturating the ends and incubating with foil.

4. "After getting the color to a yellow-orange shade, I applied Schwarzkopf Professional BLONDEME Toning Cream Steel Blue and 7 vol. to her ends and processed for 20 minutes. I finished [the look] with a Brazilian blowout, split end repair solution, and style. I sent her home with Bonacure Fibre Force Shampoo and Conditioner."
The final look!
See more from Dustin on Instagram @Dust1nSt0ne!
[Images courtesy of Dustin Stone via Facebook]