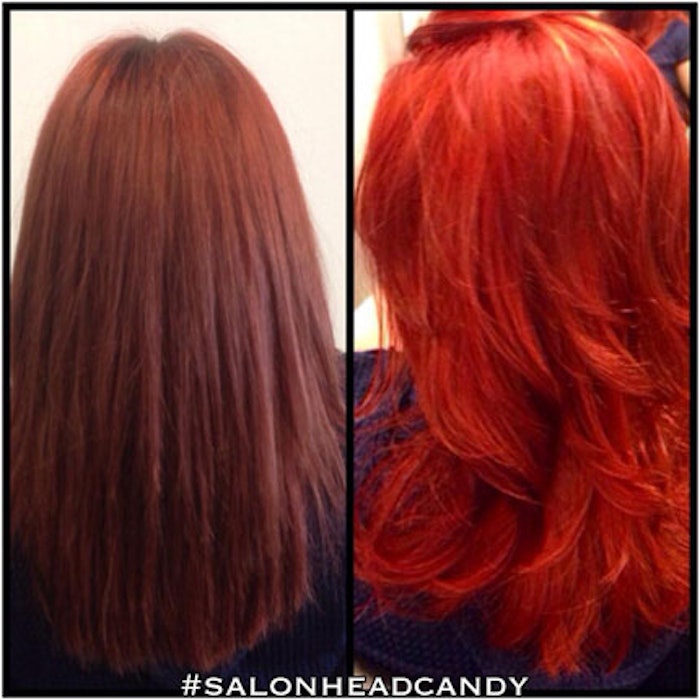 Certified Master Haircolorist and owner of Salon Head Candy in Cherry Hill, NJ Robin Dorton recently helped a client transform her locks from dull and washed-out to vibrant and beautiful. Says Dorton, "This client wanted a bright, true red, and came in with a very patchy, washed-out, red-violet color she called 'cherry cola.'" Below, Dorton shares the steps she took to correct her clients color, and give her the exact stunning shade she was looking for!

Get the Look
1. Says Dorton, "We did a clarifying treatment, then a mild pre-lightening using Blondor and 1.9% to even out the base and lift up to a level 7 (orange), before drying and applying her new color.

2. "[I] applied 66/46 + 77/44 + 30 V from mid-shafts through ends and processed 20 minutes. Then applied 66/46 + 77/44 + 20V to the roots and processed an additional 45 minutes.

3. "[Next I] followed [with a] shampoo [and] Wella Color Post Service for 5 minutes to seal in the color.

4. "I applied the formula like a virgin application and bumped up the developer on mid-shafts and ends to avoid 'hot roots.' Another tip is to make sure you're processing your reds long enough for lasting results. The ammonia in the color dissipates after approximately 30 minutes so after that you're simply depositing color, which you need for those true reds! And always seal with a pH balancing sealer to lock in that color!"
[Images courtesy of Robin Dorton via Facebook]