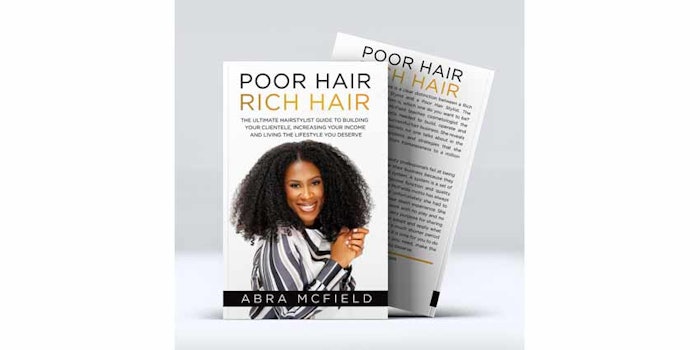 Stylist Abra McField is releasing her book,  "Poor Hair, Rich Hair–The Ultimate Guide to Building Clients, Increasing Income and Living the Lifestyle You Deserve."
McField is the CEO and founder of Abra Kadabra Hair & Healing, a natural hair salon in St. Louis with its own product line to boot.
The book is designed to help cosmetologists and other beauty professionals build, operate and grow their businesses.
The core theme of the book is promoting the transition to a "rich mindset," as a counterbalance to the lack of economic prosperity in the beauty industry. McField addresses the struggles hopeful cosmetologists experience as they grapple with their inexperience of running a profit-driven business.
"My inspiration for this book was my own personal story of perseverance and ultimate success," says McField. "I experienced homelessness as a single mom of two. But I was able to work hard, capitalize on opportunities and create a salon brand. I'm sharing my journey and road map for others because I feel a duty to help fellow cosmetologists reach new heights and fulfill their true potential. It's a challenging business, but one that can provide substantial emotional and financial rewards." 
"Poor Hair, Rich Hair—The Ultimate Guide to Building Clients…" is available for sale in both hardcover and an electronic version.