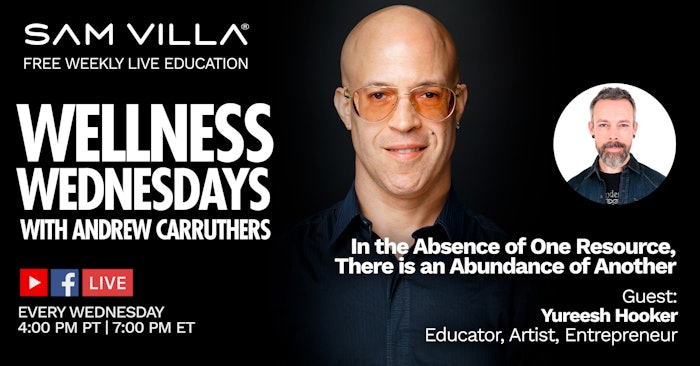 Andrew Carruthers, education director for Sam Villa, spoke live with Yureesh Hooker, educator, artist and entrepreneur, about how to be open to the many "new beginnings" brought on by the pandemic.
"So many people are struggling with how their lives have changed and how to be creative and productive in this new environment. With the absence of work came the abundance of time…and we have been invited to find the balance," says Hooker. "We were all drowning before with overbooked schedules, too many commitments and not enough personal time…and while you'll always have a chance to earn more revenue, you'll never have a chance to earn more time."
One must stay optimistic so that it becomes the default frame of mind.
How to Develop a Mindset to Thrive:
Meditate every morning and set an intention for the day, before looking at electronic devices.
Don't drown in the news; limit the negative exposure.
Exercise each day.
Learn how to recognize depression and implement positive reframing techniques.
Don't catastrophize; there is something good in most situations.
Don't look at what you can't do, look at what you can do!
Don't trade a paycheck for peace.
Don't get lost in the "what" and forget the "why" of what you're doing.
Things don't happen to you, they happen for you–some of hardest times in life are the most transformative.
Give yourself 24 hours to feel sad or depressed, and after honoring those emotions, do the work and practices to move forward.
Understand that you are not alone.
Thriving Ideas that will Survive After the Pandemic:
More manageable schedules that commit time to education and practicing the art of dressing hair.

Further evolution of digital knowledge to enhance communication, education, sales/marketing, social media and personal relationships.
Pre-service digital consultations that save time in the salon and increase retail sales.
Devoted time with family and friends, as well as others in the community.