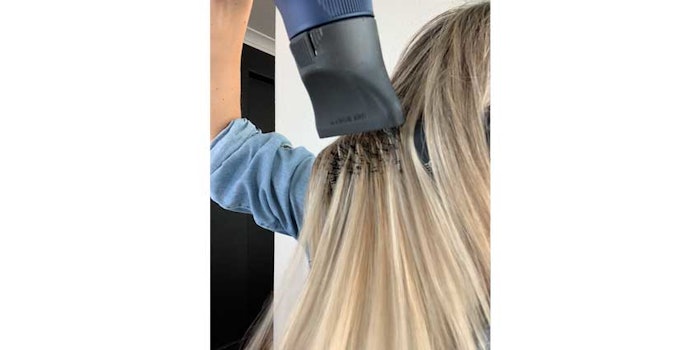 Drying hair faster is at the top of most people's wish list, professional stylists and clients alike.
"As a stylist, you can add value to your services that inspire and educates your guests…like telling them not to aim a blowdryer at soaking-wet hair and start blasting away! It takes too much heat and time to dry and compromises the integrity of their hair," explains Sam Villa is cofounder of Sam Villa and global artistic ambassador for Redken.
Offer these tips for clients to speed up the process and keep hair shiny and healthy:
Use conditioner in the shower. It is essential for healthy hair and prevents it from absorbing too much water.
Shake it out. Before stepping out of the shower, flip head upside down and gently squeeze out excess water.
Air or use microfiber towel to dry thoroughly. Hair should be at least 50 percent dry before reaching for the blowdryer or thermal brush, to reduce the amount of heat and time needed to dry it.
Detangle with a wide-tooth comb or microfiber brush. Turn the comb and brush vertically to remove stubborn tangles easily.
Apply products. Before drying, prep hair with a "quick blow dry" product that protects hair and speeds up drying time.
Go ionic. Ionic hair dryers emit negative ions that break apart the water droplets in damp hair for faster, smoother styling and gorgeous shine.
Blow dry each section only once. Use clips to section off hair and start with the lower layers. Slow down to speed up by working through each section slowly to avoid having to re-dry the same sections multiple times. Drying each section in a slow motion allows for more concentration of heat and airflow.
"These seven steps not only ease the drying ritual for guests at home; they will keep their hair in better shape for when they visit the salon, too!" adds Villa.