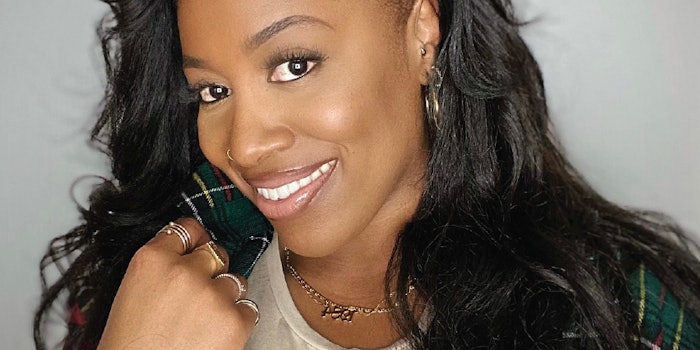 From vivids to braids to balayage to curls, Brendnetta Ashley knows her way around the hair salon. The artistic educator at The Salon by InStyle is not afraid to push the boundaries when it comes to her clients' hair or her personal style. Beauty Launchpad caught up with Ashley to learn about her love of sneakers, a meaningful tattoo inspired by her grandpa, and why switching up your style is a good idea. 
Beauty Launchpad (BLP): What three words would you use to describe your personal style?
Brendnetta Ashley (BA): Three words to describe my style are "edgy," "street" and "girlie." I love to push the boundaries, especially with my hair. I absolutely love sneakers; they go with any outfit for any occasion. I'm a sneaker collector. Even when keeping things edgy, I still like to be feminine. Pink is my favorite color.
BLP: How has your style changed over the years?
BA: I love to switch up my style. It helped me build a clientele; it showed my clients that change is okay and it's good to try something new—if you don't like it, you can switch it back. A few years ago I cut off my hair. It was my biggest change, but it was so fun.
BLP: Is there an article of clothing/piece of jewelry/tattoo that holds a lot of meaning for you? Why?
BA: I have an infinity tattoo that I got shortly after my grandfather passed. He always reminded me that when you do something you love, it lives on forever. So whenever I'm feeling discouraged or unsure of my path, this tattoo reminds me that being a hairstylist is my love and passion. I may be in a rough moment, but I have to continue this journey.
BLP: What is the best piece of fashion/beauty advice you have ever received?
BA: Less is more. I find this to be true, especially when it comes to styling hair. You don't want each section of the hair fighting to be the center of attention. Create a focal point and that's your "wow factor."
BLP: Who are your style icons?
BA: I absolutely love Beyoncé and Rihanna. They both are fierce and not afraid to make a bold statement.
For all her amazing outfits, check out Beauty Launchpad's April digital magazine.