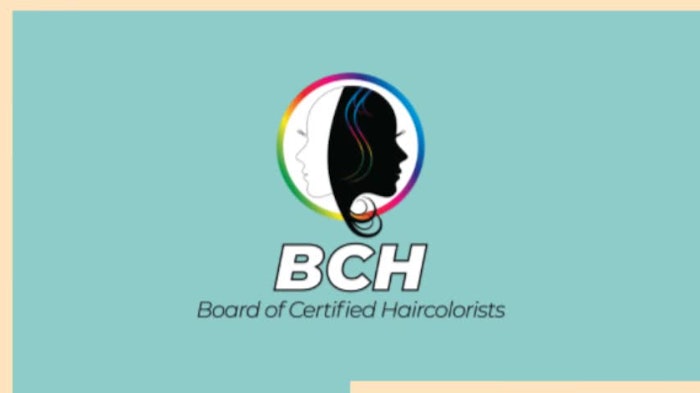 The newly formed non-profit Board of Certified Haircolorists (BCH) has announced its professional conversion of the Haircolor Board Certification process to online testing with its own verifiable secure platform. According to BCH Executive Director Jessee Skittrall, the online testing option for Board Certification is available to all colorists, including those who have already been certified through ABCH. "This exciting new certification option for colorists was developed in response to the conditions and demands brought on by the 2020 pandemic, said Skittrall. Also, when it became evident that our respected former American Board of Certified Haircolorists (ABCH) was not able to continue with its mission of certification and education, several devoted ABCH-certified colorists teamed up independently to officially form BCH, a federally recognized 501(C)3 organization. Our goal is to carry forward the critical process for all colorists of board certification, yet transition into new, progressive and highly-credentialed methods made accessible to all." 
Heading up the new Board of Certified Haircolorists are salon industry veterans Peggy Sue Schmoldt, President and Director of Marketing; Toni Mondragon, Vice-President and Director of Education; Jessee Skittrall, Executive Director and Kevin Anthony, Consultant and Technical Advisor. Bottom line, BCH's current task is to convert the Board Certification Exam to an online platform that is a fully secure and verifiable process. The long-term vision is to update and maintain the Certification Manual and the Certification Exam, creating diverse, inclusive and dynamic curriculum that will reflect current and generally accepted professional coloring practices for all hair textures with an eye to developing Texture Certification Course. Skittrall concludes: "In support of the Certification process and to promote the continued education of the Certified Haircolorists, the next steps include planned educational events that will be offered both virtually and in-person as conditions permit." For further questions re: BCH and the transition process, contact: info@BoardofCertifiedHaircolorists.com.
FREQUENTLY ASKED QUESTIONS – FAQ
Many questions are being asked right now and the BCH Board is working to put all the pieces together and to answer you as specifically as possible right now.  This FAQ is constantly expanding with your questions.  Please check back regularly to see what has been added. 
————————————————————
QUESTION: WHAT IS THE RELATIONSHIP BETWEEN BCH AND ABCH?
ANSWER: We, the BCH, are not at all associated with the ABCH, but we ARE inspired by its original colorist-dedicated vision … and respectful of who and what has come before to pave the way for us all.  
QUESTION: CAN YOU SHARE THE MAIN STORY OF WHAT HAPPENED WITH ABCH AND ANDRE (ABCH PRESIDENT/FOUNDER ANDRE NIZETICH)?
Certainly … and with ABCH knowledge and approval. Before the 2019 ABCH Energizing Summit, Andre sadly had already had a stroke that compromised his health. He had not completely recovered but was well enough to attend this event. Unfortunately, his condition worsened over time. 
In 2020, ABCH had moved forward, preparing events and activities, now under the leadership of Andre's wife, Joann, working in tandem with the ABCH Board of Directors. Exciting plans were underway – like the February 20 opening of Summit registrations (for the discounted rate before February 29) and the February and March certifications.
Then, the greatest challenges of the year halted the progress of plans in motion. Although the coronavirus crushed the challenge list as of mid-March, Joann herself had a heart event in the late summer and was hospitalized for 5 months. With mid-March, work ceased, state quarantines, and mask mandates became the unexpected reality that we would all be shut down for a full year and still be affected by virus 'variants'.  
QUESTION: HOW WAS ABCH ABLE TO PROCEED WITH ITS MEMBERS?
Over the last year, ABCH and its Board of Directors have made efforts to respond to their members and participants, while also dealing with their own businesses, co-workers, employees, clients, and family challenges that the pandemic created. Basically, ABCH had to close their office at the end of the lease obligation, put everything into storage, and tried to figure out what to do next for an industry that shut down – and with no definite time to look forward to reopening. So, website, email, phone number, everything went nowhere. 
Both our beloved Andre and Joann remain at home and are being cared for by Alicia Richardson, who resigned from her ABCH position to assume live-in caretaking, along with her fiance' Andrew Nizetich the grandson of Andre and Joann. 
QUESTION:  WHAT DOES MY ABCH BOARD CERTIFICATION MEAN NOW?
ANSWER: Your ABCH Board Certification status will be honored by BCH. You will not need to recertify. You will qualify for our member discounts moving forward with any future education or other offerings. 
QUESTION: I PAID FOR A SUMMIT REGISTRATION OR OTHER FEE ALREADY.  HOW WILL THAT BE HANDLED?
ANSWER: If you have paid for the 2020 Summit registration, including speaker luncheons and/or hands-on classes, we will offer you a free pass and equivalent value at the in-person Summit now being planned for 2022. 
The BCH legal counsel has suggested you may want to "claim the investment as a charitable contribution to the ABCH" as it a 501c3 charitable entity under an IRS designation.  Here is the ABCH IRS Federal Employer Identification Number (FEIN) # 33-709401.
QUESTION: I HAVE A RETEST FEE OR OTHER ABCH CERTIFICATION-ORIENTED FEE THAT HAS BEEN PAID.  HOW WILL THOSE BE HANDLED?
ANSWER: Any fees for the Certification or a portion of the testing or other pre-paid services similar to those BCH will be offering, will be at no cost for those with proof of payment.
Note: The BCH, will be offering the above services in honor of Andre's original vision and mission provided you reach out to us by June 30, 2021, with receipts from ABCH that are dated no earlier than June 8, 2019. (We will not be replacing or shipping any property not received including the hard-cover certification manual)
QUESTION: WHEN WILL WE LEARN ABOUT UPCOMING EXAM DATES?
ANSWER: We plan to announce the 1st Board Certification Examination dates within the next couple of weeks to be delivered before the end of the 2nd Quarter 2021. We will publish the dates for the next year of Certification exams along with the announcement of the 1st Certification exam graduates.
In the 3rd Quarter 2021, we will introduce you all to our "Grad School" member educational offerings that will include monthly live, on-line, and then available on-demand sessions.
Note: The color manual will go through an update and we will be developing standards for Texture Certification starting in the 3rd Quarter 2021 with the updated Certifications planned for the 2nd Quarter 2022. We invite all of the knowledgeable, experienced ABCH Educators and graduates to collaborate in our revision and development processes.