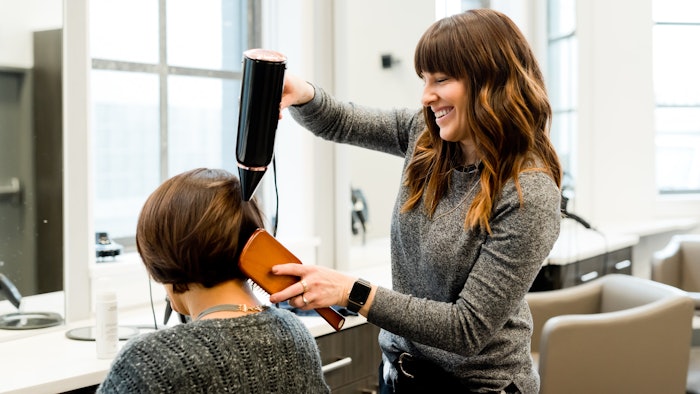 No one graduates school ready to face the real world of the beauty industry. The most successful stylists thrive on growth and are always ready to learn. Every stylist will experience points of failure during her career, but learning from these failures is key. I choose to refer to my failures as lessons, discoveries and sometimes even happy accidents. Each time you find yourself in a "discovery situation," that is your opportunity to dissect the issue, resolve it and ultimately become a more successful stylist.
Related: Introducing Beauty Launchpad Educator Meagan Gallman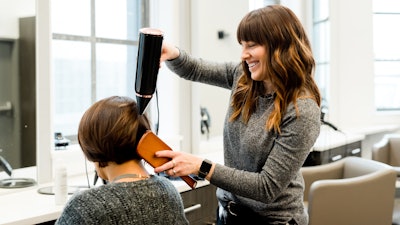 Cosmetology Schools Are Currently Expected to Provide: 
Basics: haircuts, single-process colors, traditional highlights, roller sets, pin curls and finger waves
State Board Rules and Regulations*
How can you set yourself up for success while still in Cosmetology School? 
Shadow experienced stylists while in school (take your school schedule into consideration).

Research a stylist for talent and compatibility.
Find an assistant position post-graduation.
Create a list of future job needs for post-cosmetology graduation.
Take online courses while still in school, which can be purchased a la carte or monthly/yearly subscriptions—some are even free. Many manufacturers offer digital education on their websites per desired technique.
Let's break that portion down a bit:
What do I mean by: Shadow an experienced stylist while you are still in school and why should you research a stylist for talent and compatibility? 
Think about the type of stylist you'd like to be. Would you like to specialize in cuts or color? Are you more interested in wearable color (dimensional brunettes or blonding), or vivid color? Would you like your main source of income to come from formal and bridal hair services? Think about who specializes in what sector of the industry. You wouldn't want to shadow a stylist who solely specializes in precision cuts if you want to learn how to create the perfect platinum blonde, right?
Why should you accept an assistant program post-graduation?
Assisting post-graduation is one of the best ways to learn. Did I do it? No, which is precisely why I highly recommend it. Not assisting put me about four years behind in my career. Don't cheat yourself out of any learning experience. Assisting familiarizes you with formulation, techniques, work ethic, client consultation, you name it. This crucial step looks like a minimum of six months of assisting a senior or experienced stylist.
Why should you make a list of career needs post-graduation? 
During an interview, most companies (salon or not) will want to know what you can bring to the table and how you will bring value to their team. However, you also will need to find out if they can meet your needs. Do they have a training or assisting program? Do they have a tier or a stylist level system in the salon? How do they set their stylists up for success? Will they provide you with the education needed to grow?
Bonus tip: Salon searching goes hand in hand with searching for a stylist to shadow. The type of stylist you see yourself becoming = the salon culture that fits your vibe.
Finally, remember when I said that cosmetology schools are only required to teach the basics? Companies like Joico offer tons of digital education directly on their website. Invest in a mannequin and tripod. Keyword here is invest. Purchase a good quality mannequin. Find a tripod with great reviews. Take it upon yourself to practice these techniques on your mannequin on your own time; remember that YouTube is not cosmetology school.
Bonus tip: Watch online courses and videos at least three times. Here's why:
Watch it the first time: Listen to the artist and what he or she is doing, along with her

why

. You can't fully appreciate any technique without knowing the

why

. 

Watch it a second time: Take notes with a pen, paper or laptop.
Watch it a third time: Whether this is a cutting or coloring course, sectioning is crucial. Follow along with the course to get comfortable with the technique. 
Watching an artist on an online course multiple times is like reading a book multiple times. Each time, you learn something that you missed before. It could be even the smallest detail. But the small details set you apart from the crowd. 
Related: Your Professional Beauty Biz Needs to Embrace Social Media ASAP

Create a Social Media Portfolio 
Create a hair page on social media. 

Engage with your friends and followers.

Keep your business life separate from your personal life. Exception: Your followers will like to see your personal life from time to time. 

Post behind-the-scenes snippets on your stories.

Reintroduce yourself as you gain new followers and give an update on yourself. 

Tag brands and products that you use in your hair creations. They love to see you using their products! Share your formulas, but keep in mind that everyone's hair is different, which means that everyone's starting canvas is different. Sharing your formula is more like a guide. With all factors involved, no one will be able to completely re-create your final result.
Use geotags in your posts to increase the likelihood of being seen by up to 80 percent. Use geotags for your target market. If your target market is local, then by all means, use local.
Bonus tip: If you have a high-profile event coming up in your area, people will be searching it. Use this to your advantage with geotags and hashtags. 
Hashtag Magic
Use hashtags relevant to you and your work. Use different and specific hashtags for each post. Post them in the caption or as the first comment. On Instagram, aim for seven to 30 hashtags—I like to use about 15. Create your own consistent hashtags so that potential guests can find you when they search for a stylist in their area. Here are some examples:
#brookhavenhairstylist #crystalspringshairstylist #megnaomihair #mscolorqueen
Portfolio-gram Building 
When building your portfolio on Instagram, think about how you'd like your brand and grid to look. Aim for a portfolio with a cohesive flow. Before I took the time to concentrate on my brand and the look of my portfolio, my Instagram page was a hot mess! Everything looked jumbled, messy and made zero sense. 
Consider performing free services on a select few models, referred to as in-house models to generate content and show your skill, ability and range. Create both static image and video content. Video content—like Instagram Reels and IGTV—has become more popular on social media. They are viewed longer and typically get more exposure. Try taking video clips during the service process, and select the finished look as the cover photo. If your video exceeds 60 seconds, it will be posted as an IGTV video, which tends to yield more exposure. 
Concentrate on your photography skills, but do not edit hair in photos. 

Take before and after photos.
When posting multiple images in a carousel, select the after photo first, followed by your process or before shots, so that your grid showcases your beautiful work.
Use a good quality camera or portrait mode on your iPhone for a more professional look. 
Lighting is key. Use as much natural lighting as possible in your images or shoot in a well-lit space.
Use an eye-appealing or solid-color backdrop, so that nothing distracts from your model or client's finished look.
Get Camera Comfortable
Create video content with you in it. 

Create projects for yourself to feel comfortable in front of a camera. This might feel out of your comfort zone at first, but will help you grow as a stylist and brand.

Post on Facebook and Instagram stories regularly. 
Get to Know the Brands You Admire 
Really dive into the companies that you admire. Get to know them. 

Pay attention to what catches their attention and what they look for in content.
Send them a message and introduce yourself. Tell them why they motivate you as a stylist. Feedback from consumers is important to companies. 
Choosing a Color Line 
Take color classes under reputable artists who teach wearable techniques for new stylists.
How user-friendly is the color line? 

How much education is available on the color line? 
How true to natural level are the natural shades in the line? 
Is the color line true-toned, pure-toned or pre-blended? 
What is the mixing ratio of the color line? 

Do you prefer liquid color over cream?
Discounted Services 
DO NOT

run frequent specials. People will notice this pattern and only wait for specials to book with you. 

Occasional holiday promotions are fine, but do not cheapen yourself. Instead of discounting services, offer an at-home hair care regimen as a gift for using your Rewards Program. 
Although you may feel like frequent discounting is the ticket to building a clientele quickly, it is not. It gives the appearance that you do not know your worth and in turn, clients will begin to unknowingly undervalue you.
Related: How to Correctly Price Your Salon Services
Confidence is Key 
You're the professional, right? Your guests are paying to come see you. Why are they coming to see you? Is it because they heard you create amazing blondes? Is it because you can knock a vibrant red hair color out of the park? Is it because low maintenance hair color is in high demand in your area? The point is that you are the professional. When your guest is in your chair, she looks to you to be confident in knowing her hair needs. When you are confident, you quietly command respect. Your guests trust you. You owe it to yourself as a new professional in the beauty industry to build yourself into the greatest hairstylist you can be and to join some of the most passionate people in the world.
Dear New Beauty Industry Professional, 
I believe in you. You deserve all-things wonderful. Never lose your passion or let anyone discourage you. Grow from every experience that comes your way. Never stop learning. Always be ready. Always keep an updated resume on file, because you never know what opportunity may come your way. I wish that I knew half of these things 13 years ago. This is not every answer for a new professional in the industry, but it will certainly give you a head start.
—Meagan Gallman 
*State Board books change almost yearly. Keep up with the new editions to be up-to-date during State Board Inspections.