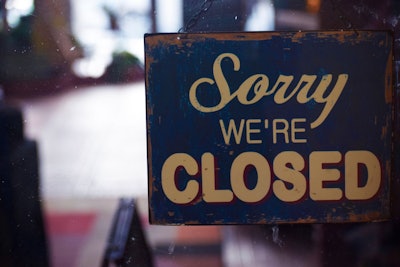 Earlier today, California governor Gavin Newsom ordered the mandatory closure of hair salons, barbershops, nail salons and personal care businesses, among other indoor businesses, in 30 counties in an effort to control the spike and continuing spread of COVID-19 cases. The counties represent about 80% of the state's population. Newsom says the state is moving back into a modified version of its stay-at-home order, comparing the order to a dimmer switch—not fully on with an open economy, but not fully off with a lockdown.
Those businesses in 30 counties, including Los Angeles county, affected by the closure include: 
Hair salons and barbershops
Nail salons
Personal care services
Fitness centers
Worship services
Offices for non-critical sectors
Indoor malls
Additionally, all indoor operations will be closed statewide for restaurants, wineries, movie theaters and family entertainment, zoos, museums, casinos and bars. 
"I want to cry," says Larisa Love in an Instagram post. "I just rescheduled 100s of clients & tomorrow was going to be my first day of work at my new location." Love, Joico Brand Ambassador, had recently announced a new location for her salon in Studio City, California. 
"This is as brutal as the original prolonged shutdown," states Fred Jones, Legal Counsel for the Professional Beauty Federation of California. "Salon owners' PPP (Paycheck Protection Program) loans are expiring and Congress doesn't look like they're going to extend those. For employees, the extra $600 a week is going to expire, and with the divided congress, who knows if those will be extended." Jones also cites that salon owners are going to struggle to renegotiate rent deferments. "How many landlords are going to extend the same courtesy for an indefinite time?" he asks.
But Jones says that this closure is especially frustrating for salon pros since they are trained in infection control and have been beefing up their safety protocol over the past few months. 
"Here's salt in the wound: Our licensed professionals are trained in cross contamination and disinfection protocol," Jones asserts. "There is no evidence that a single contagion was spread in a single salon since our reopening. Moreover, our salons are cleaner and safer than most essential business that remain open. We've all purchased PPE (personal protective equipment) and other mitigations equipment, and now we're facing another lockdown."
Indeed, the fact that two COVID-19-positive hairstylists at a Great Clips salon in Springfield, Missouri, did not infect any of their 140 clients underscores how proper safety protocol and mask use dramatically reduces infection.  
Jones says that with the amount of time, effort and money that California salons have invested to ensure their clients' and staff's safety, it is irresponsible to shut down these businesses without evidence of COVID-19 spread.  
Furthermore, Jones says that after three to four months of shutdown, many stylists may be economically pressured and/or feel justified in continuing to operate in defiance of the lockdown. "Our state has more than 600,000 individual licensed stylists and barbers, 53,000 licensed salon and barbershops. How many of those that have only recently reopened will comply?" worries Jones. "I have spoken to many who say, 'I have two choices: I close my business and file bankruptcy or I take my chances with prosecution.'" 
[Photo: Miguel Montejano]