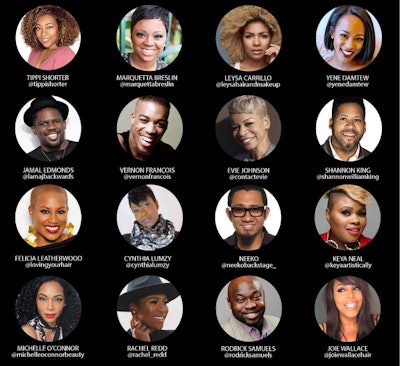 On Sunday, June 28, Sam Villa, co-founder of Sam Villa and global artistic ambassador for Redken, united 16 Black artists and educators for a day of education and fundraising with the Fabric of Change event. The day-long event raised over $7,500 to benefit the National Black Justice Coalition (NBJC) which helps to support equality and end racism, homophobia and LGBTQ bias and stigma. 
"The way for us to be better is to come together, and at Sam Villa we are committed to becoming more inclusive. To do this, we must support and respect Black hairdressers and all textures and types of hair," says Villa, who encourages you to follow all of the artists who participated in the event, hyperlinked below. You can watch the entire 9-hour education session below as well.
"The beauty industry has an important role and responsibility in breaking down barriers and promoting equality," Villa says. "We at the Sam Villa Company are committed to creating change. Rodrick Samuels expressed this relevant quote from Wayne Dyer, 'When you change the way you look at things, the things you look at can change.'"
This group of artists represent a cross-section of some of the best-known educators in the industry. Their talents range from precision cutting, barbering, styling and finishing, specialty color techniques, business building/coaching, extraordinary editorial work and celebrity styling—not to mention, salon ownership and plenty of hours working behind the chair.
"These educators deserve to be given a higher profile and stronger voice in the industry," Villa continues. "Together, we understand the importance of removing boundaries and changing perception through education. If you aren't already following these artists, we encourage you to connect with them on social, tune into their digital events and experience their artistry live at future shows and events. I know you'll be inspired and expand your knowledge!" 
16 Artists and Educators to Follow
Tippi Shorter: Global Artistic Director for Mizani, Co-Founder of The Texpert Collective, Celeb and Session Stylist and Co-Host of Fabric of Change  @Tippishorter
Marquetta Breslin: Motivational Speaker, Coach, Author, Educator and Master Lace Wigmaker  @marquettabreslin
Leysa Carrillo: Mizani/Redken Ambassador, Session Stylist, BTC #Oneshot Winner and Queen of Colorful Curls and Coils  @leysahairandmakeup
Yene Damtew: Educator, Salon Owner, Founder of The Academy and Michelle Obama's Personal Stylist @yenedamtew
Jamal Edmonds: Mizani Artist, Salon Owner, NAHA Judge and Celeb Stylist @lamajbackwards
Vernon François: Celeb Stylist, Session Artist, Educator and Founder of the Vernon Francois Collection @vernonfrancois
Evie Johnson: Master Stylist for Mizani's International Development Team, Certified Trichologist, Salon Owner, Platform Artist and Educator @contactevie
Shannon King: International Educator, Goldwell and KMS Artist and Creative Development Consultant, President/Founder of Beauty360O Consulting and Salon Owner @shannonwilliamking
Felicia Leatherwood: Natural Hair Expert, Celeb Stylist, Inspirational Speaker, Inventor of Brush with the Best and The Curl Calendar @lovingyourhair
Cynthia Lumzy: Wig Specialist, Celeb Colorist, Bronner Brothers Icon Award Winner, BTC #Oneshot Award Winner, Educator and CEO of Hues by Cynthia Lumzy and @cynthialumzy
Keya Neal: Textured Hair Color Specialist, ABCH Certified, Speaker, Industry Activist and Founder of Texture vs. Race Series @keyaartistically
Neeko: Celeb Stylist and Session Artist (Editorial, Film and TV) specializing in highly textured hair @neekobackstage_
Michelle O'Connor: Matrix Global Artistic Director, The Salon by InStyle Creative Director and 5X NAHA Winner @michelleoconnorbeauty
Rachel Redd: Mizani/Redken Brand Ambassador, Textured Hair Color Expert, Educator and Salon Owner @rachel_redd
Rodrick Samuels: Motivational Speaker, Educator, Activist, Barber and Co-Owner with wife Lauren Moser of Hair Lab Detroit Barber School @rodricksamuels
Joie Wallace: Colorist, Educator and Creator of Sessions by Joie Textures Color Academy @joiewallacehair
For a special treat, listen to the spiritually motivated grooves and musings of vocalist/songwriter Doreen Younglove @musicdoreenyounglove, whose song, "I am," made its virtual debut at the Sam Villa Fabric of Change event.