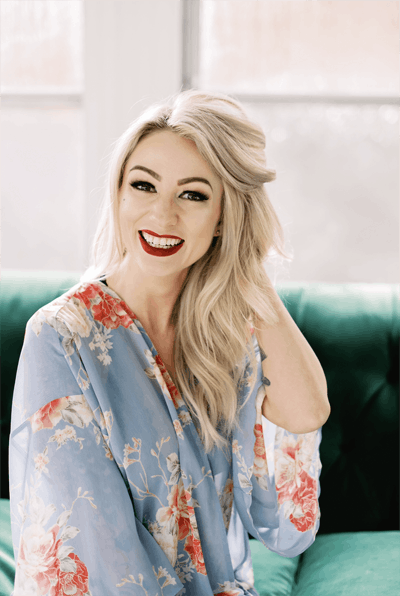 Being in isolation during COVID-19 has been challenging to be sure, but it has also allowed some people the opportunity to explore their creative sides on an even deeper level. A perfect example is Heidi Lee Oley (@heidileeoleyhair), owner of Chroma Station Salon in Atlanta and self-described colorist-at-heart, who challenged herself to style her boyfriend Geoff's luscious mane in ever more creative and silly ways. Even more impressive is the fact that for several photos she used what few tools she happened to have on hand—the pair were quarantining in a cabin in the woods, after all. The results are posts that went viral for their humor and skill and went on to inspire articles on sites such as CNN, Bored Panda and The Today Show, and mentions on TV shows like Access Hollywood and Live with Kelly and Ryan. Read on to find out her inspo and what she plans to do next!
Tell us a bit about how all of this began. What was Geoff's initial reaction? Why did you want to do this?
Geoff has always let me play with his hair. We've done styles for Halloween and other events. He can work remotely since he's a software engineer and when he asked me what I would be doing with my free time, I told him that I'd be watching some educational hair videos since so many artists were offering live tutorials. He offered up his hair if I wanted to practice anything on and that's when I got out my curling iron. It's fun playing with his hair because, as you can tell, he's got great hair, and we like to keep our relationship fun and be silly. 
What was your first creation and where did the idea come from?
I got out my curling iron and found some hair pins in my makeup bag and created George Washington. I have no idea where that came from—maybe it was the cabin atmosphere, but it was hilarious! I posted it to my Facebook, and our friends/family had a good laugh and asked for more. Cindy Lou Who came second because I wanted to do something completely different and unexpected. I didn't bring many tools with me. My curling iron happened to be in my car so I was finding stuff to help me get by before I made it to the grocery store to buy a comb and so on.
Did you expect to keep going with the idea of creating iconic hairstyles, or was it just going to be a few?
I did not expect this to go on for as long as it did. I started posting the styles in some hair groups and people were living for them! Since we couldn't work, it was a way for them to live through these hilarious creations and to keep their spirits up during this terrifying time. A girl in one of my groups on Facebook posted it to Reddit, and we had so many comments from healthcare professionals saying how much it made them laugh, so we had to keep going after hearing that. People's parents were asking for updates, kids were asking for updates—we just felt like we had to keep people smiling, and Geoff and I had some pretty good laughs while he was modeling. 
What has been your favorite hairstyle so far? What has been your most popular look?
We've done over 20-plus styles, so now I'm not sure which is my favorite. The most fun was Princess Leia because that's when he started dressing for the part. I think '90s/'00s prom and trolls were the most popular. A lot of people related to the prom style because WE ALL HAD IT!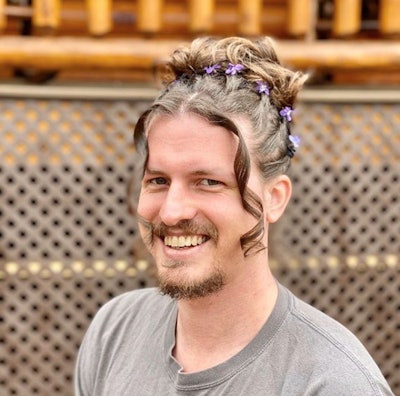 Do you take requests?
I do take requests! They have definitely help to keep the creativity flowing. Some requests were just too unattainable, but I had some good laughs at what people wanted to see.
How does it feel to have gained international attention for your hairstyling? 
It's kind of surreal! Since we are self-isolating far away from neighbors and friends, having so much attention when we are probably miles from the nearest person is like "for real? Nah, no way." We make jokes, like yelling "ELLEN? ELLEN? ELLEN?" around the house. All of this was meant to be a joke but the popularity, especially at this time, is helping me stay positive along with others who have enjoyed the photos. I smile at the comments, and honestly that helps me more than people will ever know. And who doesn't want AC Slater saying their name on national television?!?! 
What do you love most about this experience so far? What do you find most challenging?
I love that it is making people's day when they see a post. Nurses have messaged me that they all get together at the nurses station and laugh. I love making people laugh while in my chair, so this has just given me millions of chairs. I also love watching Geoff act ridiculous, like popping out from behind trees with the dog. The most challenging is that I'm a colorist at heart—if you look at my Instagram page before Geoff, it's full of hair color posts ranging from vivids to blondes. So I had to relearn how to do updos—comical updos to be exact. Before this, I think I'd done a total of three updos since I graduated school 11 years ago. 
Will you continue to feature Geoff in various styles even after all of this is over?
Geoff and I have discussed this and yes, we will continue to do styles with his luscious locks of hair. We are going back to our small apartment in the city so the atmosphere and decor will be different, but it will still be Geoff. I'll have to find some trees around our place for him to hide behind. The neighbors and people on the sidewalk might be confused but I'm honestly excited. 
What has been the best part about being stuck in a cabin doing your boyfriend's hair?
Apart from making people laugh, the best part has been spending time with the one I love most. I have realized how much I work, so having dinner with him at a normal hour or taking walks with him and the dogs has been very heartwarming for me. It's made us appreciate the little things and how easily they can been taken for granted. Who doesn't want to hang out with a tall Aussie with great hair all day? I mean, come on! This whole experience has made us closer. Everyone needs a Geoff in their life.