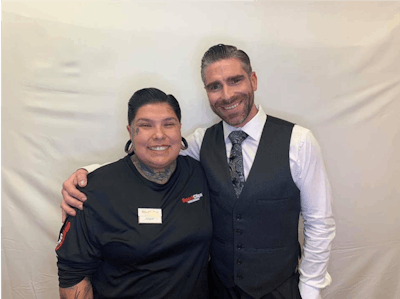 Sure, the pandemic has thrown a lot of things into disarray, but Sport Clips wasn't about to let it get in the way of honoring the very best stylists who participated in The Look, its annual competition that challenges stylists to create the best trendy and current hairstyles for men and boys.
This year's winner is stylist Jessika "Jessie" Gonzales of Tustin, California, with Kristy Little of Edmonton, Alberta, Canada, receiving the runner-up award, and Jules McCullough of Hudson, Massachusetts, and Kelly Robinson of Bentonville, Arkansas, receiving honorable mentions.
While The Look is typically a platform event with live models, this year's finalists used mannequins to focus on updated 1920s looks and competed online before high-profile judges Erik Thrane of Nioxin, Evan Wooding of Sexy Hair and Kelly Cardenas via Facebook live. Winners received prizes from Sport Clips and all finalists were awarded items from Gibs Grooming, JPMS, American Crew, Sexy Hair, ACTIIV, Nioxin and DBE.
Prior to the professional competition, The Look Student Edition was held online and winners were announced on the Sport Clips Jobs Facebook page. They included future professionals Asia Marie from Paul Mitchell The School, Ogden, Utah; Santiago Issac from Boise Barber College, Boise, Idaho; Ivan Aguilar from CTEC Salem Oregon School, Salem, Oregon; Jay Mo from State Barber School, Arlington, Texas; Lizbeth Gonzalez Garcia from PCI Academy, Ames, Idaho; and Marcus Maciel from Boise Barber College, Boise, Idaho.
To watch The Look competition and find out more about the finalists, visit the Sport Clips Jobs Facebook page. For career opportunities check out SportClipsJobs.com. Congratulations to all the participants and winners!