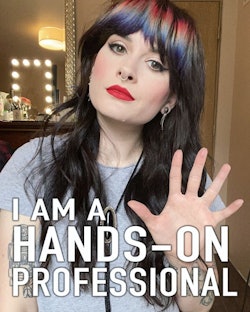 Nearly everyone in the beauty industry is a hands-on professional: We literally touch people for a living. Naturally, salons, barbershops, day spas, lash studios and nail salons were directly impacted by the coronavirus and many had to shutter for several months—and some have been forced to close all together. And while many states are currently loosening restrictions and allowing beauty businesses to reopen, many pros are concerned about going back to work, while others have not received promised relief and are worried that they may not have a workplace to go back to. We partnered with Ursula Goff and Caitlin Ford to promote Hands On Professional, a website resource and survey to help get concrete data on what beauty pros are needing and how we as an industry can be collectively heard and our needs addressed.
"I am one of the many who is currently out of work because of the coronavirus pandemic. I am one of the many voices seeking to be heard and not silenced. These hands that used to be a safe haven for my clients now have the potential to put my clients' lives at risk, put me at risk, and put my family at risk," says Ford. "We who are in hands-on industries need to join hands and take action, and get our leaders to recognize our needs." Goff echoes that sentiment, stating: "We want some hard data to pass on to those we've supported over the years, so we can demonstrate how badly we now need their support. We want to be able to show just how much our industries are struggling right now, so that we can push for change."
In her latest instagram post on May 6, 2020, Goff revealed some early sobering statistics: "We've gotten over 2,500 responses so far and counting: 42% of you approved to get unemployment still have not received any, and only 19% of you who applied for CARES have received it. About a quarter of you have a partner who has also lost all their work revenue, while another quarter of you are going it alone with no partner, and almost half of you surveyed have dependents. 37% of you who would normally receive child support no longer do."
We continue to need to get hard data to be able to collectively affect change. Please consider making your voice heard in this completely anonymous survey at handsonprofessional.com. You deserve to be heard. Once data is finalized we will share the results.