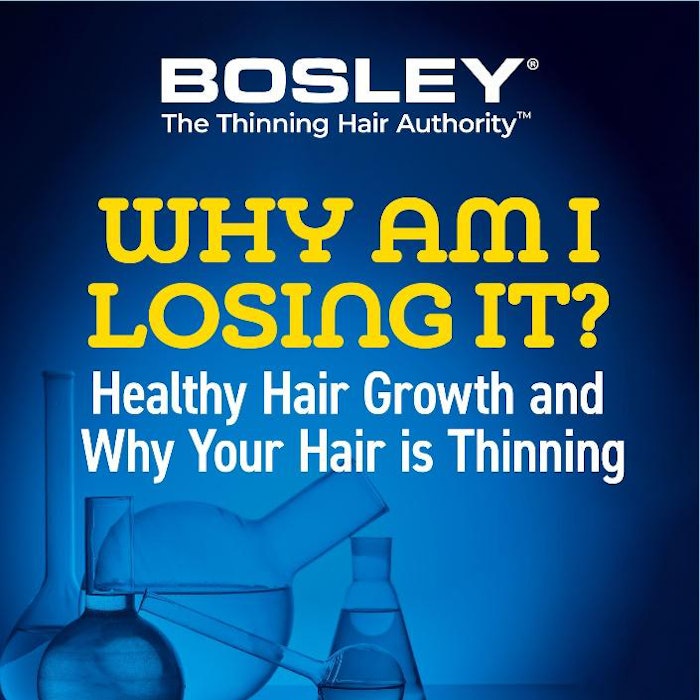 Bosley Professional Strength is proud to announce the launch of a brand-new podcast dedicated to hair loss and thinning. "Bosley: The Thinning Hair Authority Podcast" is scheduled to premiere its first episode on May 7, 2020. With the launch of the podcast, Bosley Professional Strength is opening up the conversation surrounding the once-taboo topic of hair loss and thinning and allowing consumers to more easily access the educational resources they seek. Each episode will be hosted by global director of education Colleen Camp, with salon owner and stylist JB Shelton as occasional co-host. The content within episodes will vary, from highlighting industry professionals, stylists and salon owners to sharing detailed, yet easy to digest information for consumers about why their hair might be thinning, how to prevent it, products they can use to treat it and more.
"It's a very narrow list of doctors, scientists and professional experts who truly understand the science behind hair loss," Camp says. "We recognized how important it was to bring the most qualified professionals to a resourceful setting. We identified the need to have the most authoritative devotees share their knowledge through an ongoing podcast series, allowing them to share the most valuable solutions to fight and prevent hair loss."
The Thinning Hair Authority Podcast will be available on Apple Podcasts, Google Podcasts and Spotify. A new episode will be available every 2 weeks, with the upcoming schedule as follows:
May 7: EPISODE 1
●      Topic: The Science Behind Hair Loss: Dr. Ken Washenik, M.D. PH. D, medical director of Bosley Medical Group shares his 35-plus year career as a leader in the medical field of treating hair loss. Dr. Washenik joins Colleen and JB to talk about key factors behind why men and women experience hair loss, the types of hair loss, a rundown on hair growth cycles and advice on how to maintain and improve healthy hair and scalp. 
May 21: EPISODE 2
●      Topic: Do You Ever Feel Like You Are Losing It? How High Stress Can Cause Hair Loss: Two nationally known hairstylists who devote their careers to preventing hair loss, Colleen Camp and JB Shelton, come together to share why we are losing our hair and the most innovative best treatments possible. 
June 4: EPISODE 3
●      Topic: What 4,500 Salons Are Doing to Fight Hair Loss: Industry education leader and advocate for fighting hair loss, Sharon Mudgett, shares her expertise in educating over 45,000 stylists to become experts in hair loss prevention.
June 18: EPISODE 4
●      Topic: Internationally Known Barber Creates Volume & Thickening Haircuts for Men: Internationally known artist, barber and creator of hair cutting methodology specializing in volume and thickness for men's haircuts, Herman Colt, joins us to share his tips and tricks for creating fuller, thicker-looking hairstyles.