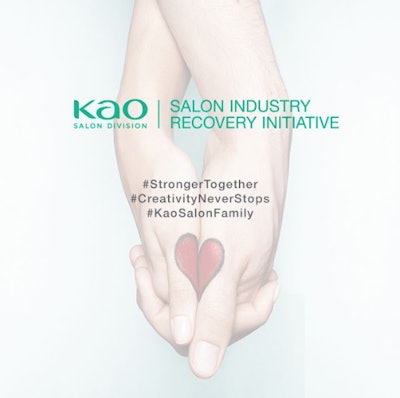 Kao Salon Division, home of the Goldwell, KMS and Oribe brands, introduces the Kao Salon Industry Recovery Initiative, a global effort solely focused on helping salons recover and rebuild as they emerge from the COVID-19 crisis. As part of that, the Kao Salon North America division has assembled a package valued at $5.6 million focused on the tools salons will need to reopen and grow in the months ahead. 
KAO SALON DIVISION NORTH AMERICA
The North American $5.6 million package designed to help North American stylists impacted by the coronavirus includes: 
Financial donations to charities that serve salons, stylists and the communities in which we live and work 
Enhanced back bar support which will provide cost savings to salons
Product samples to stimulate retail sales 
Technical and business education, which will be available both virtually and in-person
Turnkey marketing initiatives and social media support for salon reopenings and beyond
Oribe.com Salon Commission Program made available for Oribe salons to enroll & earn commission on any orders placed by their customers. (U.S. only)
$1 million in product donations—including soap, gloves, body wash, dry shampoos and other personal care products—to charitable organizations and medical facilities in major metro areas that have been deeply affected by COVID-19 including NYC, Baltimore, Los Angeles, Seattle, San Francisco, Dallas, Chicago, Miami, Toronto, Winnipeg and Vancouver. 
"The activities Kao has planned in the U.S. are consistent with our ongoing philosophy of partnering with our salons to help them grow by giving them the tools they need to succeed," says Scott Guinter, general manager of Kao Salon Division U.S. "We stand united with our salons and are committed to supporting them throughout this current crisis and the recovery."
GLOBAL KAO SALON INDUSTRY RECOVERY INITIATIVE 
Meanwhile, the global Kao Salon Industry Recovery Initiative is comprised of three pillars of carefully constructed support campaigns designed to address the unique challenges facing the industry and its professionals as they look to reopen. The initiative's trio of programs is designed to, both individually and collectively, provide industry professionals with tangible, localized resources to ensure their businesses are not only restored, but thriving in the months ahead. The components include:
STRONGER TOGETHER - Founded on the belief that no one person or organization alone holds the key to success, but that by truly coming together the industry will rise and flourish, #StrongerTogether represents Kao Salon's financial support and unwavering partnership.  Through this program Kao Salon has committed to:
Suspend invoices until local government salon closure orders are lifted 
Sponsor free-to-industry opportunities to receive business recovery insight and information
Provide tangible support for local salon organizations to support activities that benefit both stylists and their salons
Donate product to charitable organizations for key medical personnel and those in need
Work with local trade media to present information on supporting government programs and their details and timelines 
Work with salon customers to arrive at a support plan for success upon reopening
Create a sponsored consumer digital campaign to inspire a "#WorthTheWait" consumer movement that presents a call-to-action for clients to patiently wait for their stylists instead of taking at-home measures
CREATIVITY NEVER STOPS – Because Kao Salon inherently understands that the expression of creativity is the lifeblood of the industry, #CreativityNeverStops has been created to allow stylists to immediately nurture and hone their skills via:
Access to digital and online education programs that offer relief and inspiration to stylists confined to their homes
The transformation of the annual Goldwell Creative Awards into an entirely virtual experience, adjusting entry dates to expand participation 
KAO SALON FAMILY – Serving as a constant reminder to customers that their individual recovery remains at the very center Kao Salon's focus, #KaoSalonFamily has begun to:
Deliver hyper-relevant messages of hope and positivity through the Kao Salon network
Provide communication routes for stylists and salons to communicate their concerns and questions
Offer community and connection by directly inviting stylists and salons to connect with the organization through ongoing, virtual points of contact 
"Our priority during this crisis has been to galvanize our efforts around the full and complete recovery of the industry as a whole, with special focus our partners and stylists," says Cory Couts, global president, Kao Salon Division. "We know the needs and concerns of the salon community are very specific. That's why we designed this initiative to not only to commit global resources, but local, real solutions for their recovery. We believe in the power of the collective and know that by meeting this incredibly powerful community where they are, and joining them on their journey, together we will grow, rise and create the future."