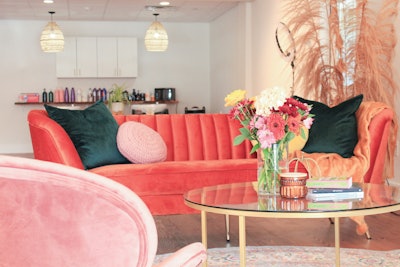 At Citrine Salon by Allyson M, home is where the art is.
Inside Story
A rocky start to a career can be spun positively, as Allyson M. Neri found. After leaving her first salon assistant job feeling a little defeated ("That experience wasn't one of the best," Neri admits), a fire started to burn inside her. "Let me tell you, [that job] fueled my passion even more to build a home for clients and stylists alike to feel loved, grow and evolve," she says. Twelve years after that first assisting ordeal, Neri and her husband Francesco opened Citrine Salon by Allyson M in November 2019. Named after the stone that Neri says "carries the power of the sun—warm, comforting and life-giving," the 1,500-square-foot open-concept space certainly glows, with plush velvet sofas and chairs in blush and coral hues; natural wood floors; warm white macramé poufs; and gold accents galore, from mirrors to drawer handles to floor lamps. "Our decor is definitely boho with a splash of glam and a modern twist," Neri thrills. A large elk skull holds court in the waiting area alongside sky-high rose- hued pampas grass—two design elements that fascinate clients.
Even the salon's location in Millbrook, New York, speaks to the idea of warmth. "It's the cutest little town, filled with great restaurants and shops. It's also walkable, and there's such a sense of community, which I love because I value that in my business," Neri shares.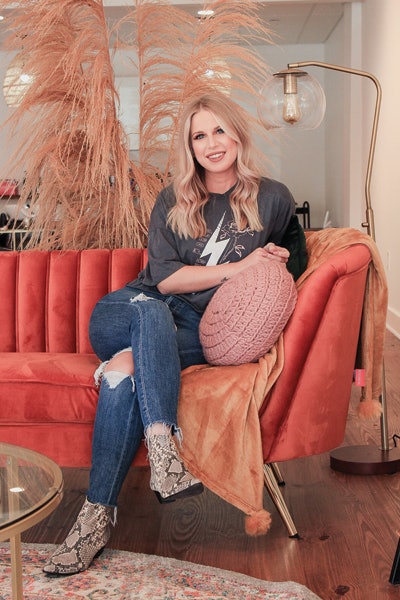 As an independent educator, Neri naturally puts a lot of emphasis on education, not only for her small staff of two, but also for Citrine's clients. "One of my favorite sayings is, 'If you're not growing, you're dying!'" she notes, explaining that Citrine has already booked several education classes for the space and that, with clients, from the moment they walk through the door, she's seeking to educate them on what they personally need to keep their hair healthy and happy. "We listen, we educate, we offer advice, and we make them not only look good, but feel good," she says. And Citrine's clients seem to not only love this level of dedicated service, but the space as a whole because, Neri reveals, they say the salon feels like home. "We get a lot of our guests relaying that they just want to hang out and have a cup of coffee and relax," she laughs. "We're so grateful for that feedback because we want everyone to feel comfortable and pampered!"
Stronger Together
With only two employees, Neri focuses on showing them her gratitude. "Group activities, lunches—I try to make my team feel loved and appreciated any way I can," says Neri.
Retail Hair Lines: amika, Fanola, Paul Mitchell, Truss Professional
Color Lines: Fanola, Paul Mitchell, Truss Professional
Refreshments: Seltzers, sodas, coffee, tea, mimosas, wine, light snacks
Popular Service: Lived-in-looking bespoke color. "We utilize different methods to customize the goal, and clients love how we're always at the forefront of new techniques," says Neri.
[Images: Courtesy of Brooke Anthony]