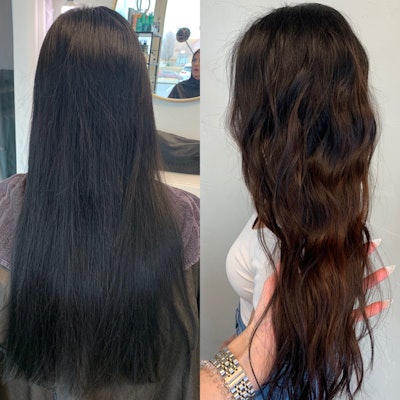 We see many color correction posts from stylists trying to lighten previously box dyed hair. Would using DDL or CPR first help the lightening process?
We always suggest beginning corrective color with Malibu C CPR. I believe that the low and slow approach is always best. CPR is gentle, removes pigment without oxidation, and it also removes minerals. 
In what situations would you use DDL vs. CPR? 
I always behind with CPR, but then if I am removing a direct dye, then i will proceed with DDL. It is ammonia free, and gentle. 
How important is using UnDoGoo Shampoo in the color correction process.
I know we like to break rules as stylists, but this is one I don't break. The high pH of Un-doo-goo is key  to getting the results you want. They are formulated to work hand in hand. 
What other products in the Malibu C arsenal would help out a difficult color correction and why?
I am loving the results I am getting from using Malibu Color Disruptor. It is used before CPR, and it disrupts the dye molecule, making it easier for CPR to remove stubborn dye molecules. Its been compared to pre-treating your laundry stains. 
Would you incorporate a Malibu C Makeover into a color correction? Why or why not?
If I am doing corrective work I always go for CPR.  Not only am I blown away by the pigment it removes, but it also detoxes the hair by removing minerals. Its a double threat! Crystal gel is my go-to when I am staying within the same color scheme, its perfect for when I am just needing a detox. 
Tell us about Color Disruptor and when and how you use it.
Disruptor is a tool that is meant to be used before CPR. It is formulated to pre-treat the dye molecules and make it easier for CPR to go in and bust through stubborn color. It is applied to damp hair that has been washed with Un-doo-goo. Using 1/2"-1" sections. Then you cover with a processing cap, and apply heat for 20-30 minutes. The you rinse, shampoo with Un-doo-goo and apply CPR. It has helped me tackle some very dark corrective color jobs. 
[Images: Courtesy of Amy Spencer; Instagram]