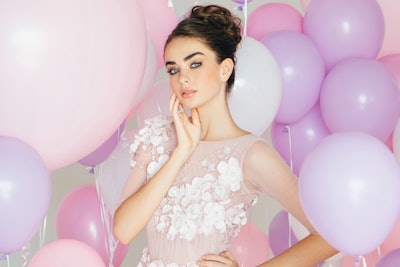 Map out what you'll be offering for special occasion hair with these forecasted trends. 
R​emember those whipped meringue updos, swirled and shellacked into rock- hard, towering perfection? Once favored by women and teens alike for special occasions, such overtly formal hairstyles have been relegated to the annals of hairdressing. Now, when females wish to frame their face for highly photographed moments (for instance, wedding and proms, but also festival season), they desire ever-more-intricate styles that, though certainly elevated beyond normal day-to-day looks, are anything but the stiff stuff of yesteryear. "Now, styles have more texture; they're looser and more effortless-looking," says Naples, Florida-based stylist Shayla Robertson. But don't think effortless means easy. "Even though today's special occasion styles look more natural and simple, they require more prepping time and new techniques to give the clients those coveted Pinterest-inspired looks," she relays. Your job: Learn, and then deliver, the newest 2020 party-approved trends to help make clients' events ones they'll remember fondly.
For the Bride 
The formality of bridal hair has waned over the past few years, with more bohemian-leaning finishes and styles striking a chord with the aisle-bound. But stylist Whitney Burkhart in Lancaster, Pennsylvania, believes a reintroduction of polish will emerge in bridal hair. "Boho is still in, but we'll see more rigid crowns, fanned-out braids and curls," she predicts, noting that these styles create the appearance of volume—a highly valued asset for brides.
Bridal hairstylist Ellie Ferrari in Exeter, Devon, England, agrees, noting, "At the moment I've been seeing less braids, but the textured loose styles are still so popular—like low textured chignons with light and airy volume." Ferrari believes this shift toward somewhat simpler, polished styles is the direct result of bridal fashion. "A lot of people are going for more extravagant dresses with heavy beading and texture, so they want to keep their hair less fussy," she reasons.
For brides that continue to seek lived-in texture yet lean toward the grandiose, UK-based stylist Hannah Taylor believes they're in luck. "I think big romantic updos will be massive for 2020—but nothing too polished. Instead, brides will want lots of texture and volume with loose, soft strands framing the face," she says.
Not going anywhere in 2020: extensions and accessories. "The use of extensions is becoming more and more frequent due to brides desiring added volume for their looks," says Burkhart. When selecting hair pins, crowns and flowers, Taylor, an ambassador for bridal accessories brand Ulyana Aster, warns that a keen eye for placement and an understanding of the piece's job—to accent the hair—be exercised judiciously. "Accessories should only be used to complement a hairstyle and not to cover up the detail you've spent so long creating," she says. "You need to make sure they don't overcrowd the hairstyle."
Marketing Tip: "Great images are so important, but try and show versatility: different hair types, colors and lengths. You can highlight a single style with and without accessories to really show what can be created on different finishes," says Ferrari.
For the Festival Crowd
Festivals are just as special an occasion as any–and they demand downright stunning hair. e good news: ere's no deficit of amazing artistry from which to find inspiration— and the techniques continue to evolve. Leading the charge on discovering and creating new trends: Robertson. She envisions twist braids, space "rose" buns and rings (which she credits to Antonio Estrada and Laura Chihaia aka @lalasupdos for bringing to the forefront) as 2020's festival-approved styles. "They're all so fun and unique and can be incorporated easily for any event," she says, citing rings as especially interesting as different sizes, shapes and colors can dramatically change the vibe and look of a style.
With a gorgeous trove of festivalgoers as her clientele, Linda Ha regularly dreams up new dance- worthy styles in her native Australia. But she believes the tide will turn toward simpler (but still quite amazing) tress looks. "I'm thinking long waves with some soft pulled-out fishtail braids flowing through; half-up wavy or straight hair with a few front plaits and hair rings or jewels added in; single long braided ponytails; really big, soft colorful braids; and classic head bandanas to match clients' outfits," she says, adding that pearls, whether on clips, strings or as stickers, are hot right now and will continue to be a big hit come festival time.
Ever the experimenter with hair accessories (she's even used colorful toothpicks!), Chicago-based Malina Muresan recommends weaving into braids whatever you can get your hands on—leather chord, chains, embroidery thread, the aforementioned toothpicks—to elevate their visual impact. But be sure to properly prep hair with texture sprays or powders before braiding; this allows you to make plaits as big as you'd like, no matter how much natural hair your client boasts.
Marketing Tip: Set aside a day to do various festival styles and shoot the finished looks for your social media, advises Robertson. "You don't need a professional photographer or pro model for this. Just have your friend come in with a beautiful outfit and shoot on a clean background," she says. Robertson recommends using hashtags that not only relate to the style you created, but also to the festivals you envision it at as well as your city.
For the Prom-Goer
When servicing the young prom-destined crowd, be prepared for maximum creativity. "Prom girls are always on the hunt for what's new and what will make them stand out," claims Rhode Island-based stylist Alexandra Wilson. at means you'll need to have a command of edgy accents, like Jordan Pomeroy's pick for 2020: chains. The Naples, Florida-based stylist points to their incredible versatility as a reason for their popularity. "Incorporating chains into your styles can make any look edgy—you can feed them into tight braids, work the chain into a romantic updo ... or weave it through a style softly," Pomeroy shares. She does warn that chains require properly prepped hair, since "if the hair is too soft without enough grip and texture, the chains will easily slide."
The adventurous nature of teenagers has Arizona-based stylist Antonio Estrada looking forward to creating visually stunning styles using anything unconventional—rings, ropes, chains, and diamond and pearl hair stickers. "I've used [the stickers] in a few looks; their effect is so different and exciting," he says, noting that for long nights spent dancing, you'll want to anchor the stickers with eyelash adhesive.
While Wilson believes that undone textured looks will rule the 2020 prom landscape, she's certain braids will retain their frontrunner position as the style that captivates teens. "Braids create the most amazing texture and they make for a beautiful detail in any type of style," she says. Don't turn your back on simpler styles, too, like ponytails and chignons. Punch them up with a bold accent braid (think: infinity braids, if your client is daring) or add length, girth and extra drama with extensions.
Marketing Tip: If you're interested in pulling in clientele for styling, but find you spend most of your day cutting and coloring behind the chair, don't fret. Focus your Instagram grid on showing off your styling chops, like Estrada does. "I work full-time primarily doing cuts and color, but I use my IG account only to show what I can do with styling. It has allowed me to market myself as a styling expert," he says.
Get the Looks
For the Bride
Prep hair with volumizing texture mists and powders, while spray waxes, hairsprays and smoothing creams refine styles.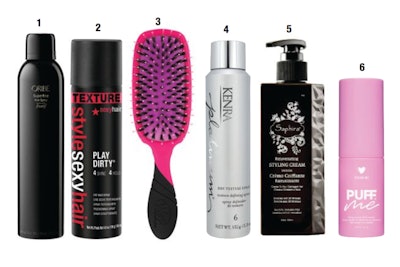 1. Oribe Superfine Hair Spray
2. Sexy Hair Style Sexy Hair Play Dirty Dry Wax Spray
3. WetBrush Pro Shine Enhancer
4. Kenra Professional Platinum Dry Texture Spray
5. Saphira Rejuvenating Styling Cream
6. Design.ME Puff.ME Volumizing Powder
For the Festival Crowd
Turn up texture to aid braiding and stick with products that encourage shine and staying power.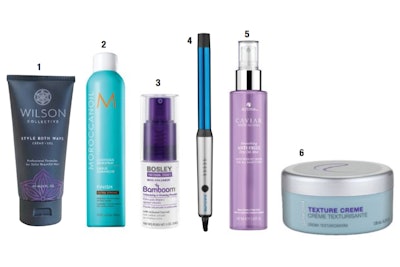 1. Wilson Collective Style Both Ways Crème/Gel
2. Moroccanoil Luminous Hairspray Extra Strong
3. Bosley Professional Strength Bos•Volumize BamBoom Volumizing & Cleansing Powder
4. BaBylissPRO Blue Nano Titanium Curling Wand
5. Alterna Caviar Anti-Aging Smoothing Anti-Frizz Dry Oil Mist
6. REDAVID Texture Creme
For the Prom-Goer
Grip via texturizing products ensures accessories won't budge while glossing goods accentuate every curve of your style.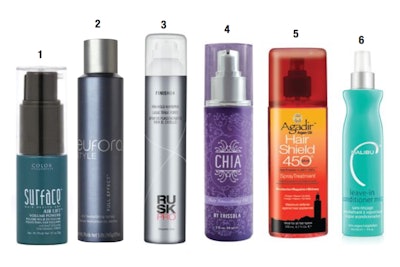 1. Surface Air Lift Volume Powder
2. Eufora Style Full Effect Dry Texturizing Spray
3. Rusk Pro FINISH04 Firm Hold Hairspray
4. Trissola Chia Hair Smoothing Oil
5. Agadir Hair Shield 450° Plus Spray Treatment
6. Malibu C Leave-In Conditioner Mist
[Images: Courtesy of manufacturers; Instagram; iStock]
This story first appeared in the March issue of Beauty Launchpad. To receive the magazine, click here to subscribe.