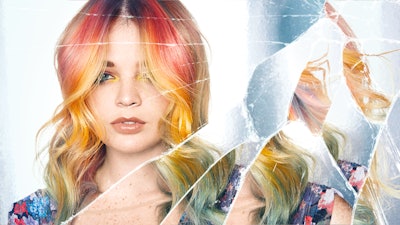 Have you ever wished to showcase your talent on the national stage, win free product and receive $5,000? And have you ever wished it was as easy as posting a picture on Instagram? If this sounds like you, then have we got good news for you: COTY Professional Beauty announces the 2020 North American Beauty Envision Awards, a competition for salon professionals like you who are ready to unleash their creativity and envision the next era of beauty.
The Beauty Envision Awards is an editorial styling competition for all beauty pros, in all stages of their careers. Beauty pros can enter nine different categories, including the new "Natural Texture Artist" category, sponsored by Clairol Professional. Excitingly, the Beauty Envision Awards is open to all beauty professionals, regardless of brand affiliation, and it is an Instagram-entry competition. 
RELATED: Winners Announced in COTY's First Beauty Envsion Awards Competition
"The purpose of the Beauty Envision Awards is to celebrate the craft and hero the professionals – last year we expanded our categories and this year, with the addition of the Natural Texture Artist category, we are excited to celebrate all hair types and textures. We can't wait to see the beautiful looks that come out of this new category," says Carole Protat, senior creative director NA.
The nine categories are: 
Natural Texture Artist (#ClairolPro2020BEA) Sponsored by Clairol Professional, this total look challenge that encourages competitors to show off the beautiful, natural texture of curly, coily and wavy hair. Competitors will be judged on creativity, color and architecture of the hairs' shape. 
Color Artist of the Year (#usWella2020BEA for US and PR residents or #caWella2020BEA for Canadian residents) Sponsored by Wella Professionals, participants in this category will prove they are masters in color artistry through their choice of color palette and technique. Participants will be judged on their knowledge of how the perfect color placement is crucial in a cohesive total look. 
Editorial Artist (#ghd2020BEA) Competitors push the boundaries in this category sponsored by ghd by creating a modern yet wearable hair look. Entries will be judged on a complete look and feel, level of innovation, inclusion of techniques and commercialization. 
Creative Artist (#Sebastian2020BEA) Presented by Sebastian Professional, competitors will showcase and be judged on exceptional skills in cut, style and texture via progressive styling, revolutionary technique and creative concept. 
Men's Artist (#SebMan2020BEA) Participants in this category sponsored by SebMan should utilize hair design elements that highlight professional knowledge of technique and balance with facial structure in mind. Entries will be judged on mastery in progressive styles, intricate techniques and creativity.
Total Transformation (#Kadus2020BEA) Sponsored by Kadus, competitors showcase their skills by taking their client from drab to fab. Stylists must showcase mastery in color, cut and style through a true total transformation.
Bridal Hair Artist (#Nioxin2020BEA) Entries in this category sponsored by NIOXIN must be elegant and beautiful upstyles, and showcase technical hair artistry. Look must be wedding wearable yet innovative and creative.
Nail Artist (#OPI2020BEA) Competitors are encouraged to express their individuality with a variety of hues that evoke the influence and creativity of color in this category, sponsored by OPI. Entries will be judged on creativity, flawless application and salon style sculpting. 
FUTURE STAR (#FutureStar2020BEA) This category is exclusively for cosmetology students to compete by submitting a limitless, bold, bright and fearless total look that shows understanding of cutting, styling, texture and color within a contemporary and wearable style. 
To enter, simply post a photo of a final look on Instagram with the applicable category hashtag and mention @wellaeducation in the caption. Entrants may enter as many categories as desired with the same image.
Entries open 12:01 AM ET February 15, 2020 – 11:59 PM ET May 1, 2020. Semi-finalists will be judged via online voting and a judging panel of top industry professionals. Ten semi-finalists per category will be announced online on May 24, 2020.
The winner of each category will receive:
$5,000 Visa gift card
Pro products from ProfessionalStore.com
Additionally, winners of the Wella "Color Artist of the Year" will qualify to attend International TrendVision Creative Retreat in 2021.
For more information on how to enter, rules and regulations visit www.beautyenvisionawards.com.