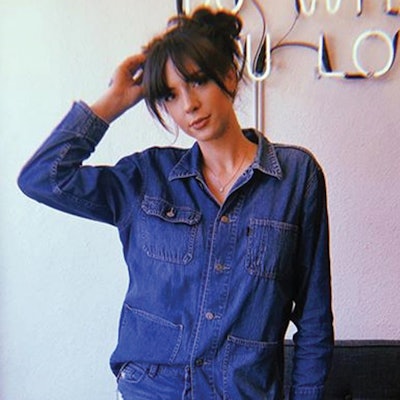 Rachel Rush crafts dreamy hues that will get your clients' locks ready for the new year.
Who: Rachel Rush
Number of Instagram Followers: 10.1K
Location: City Salon Suites in Frisco, Texas, and guest artist at Larisa Love Salon in Studio City, California.
It's the start of a new year and the perfect time to help your clients jump into a new hue. Looking for color inspo? Colorist Rachel Rush creates looks that will surely help your clients put their best hue forward in 2020—from opal-inspired shades to bright babylights. The key to picture-perfect highlights: "Maintain and incorporate depth," she says. "If you want to 'highlight' your highlights, place depth underneath and/ or beside them."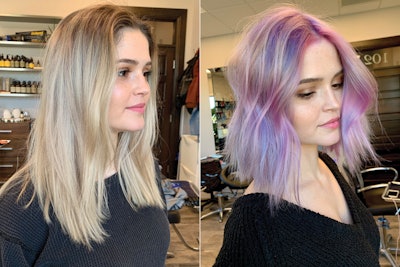 Inspo: "I was inspired by opal and wanted to create a multifaceted pastel look that also had depth," shares Rachel Rush.
Rachel Rush shares how to achieve this whimsical transformation.
Note: My client started with grown-out platinum hair with a natural Level 5 and 4 inches of new growth. I started with Malibu C DDL Direct Dye Lifter with10-vol. to remove her old color.
Formula 1: Joico Intensity: Violet root/low light: 60g. Lilac + 40g. Violet Pearl + 20g. Violet
Formula 2: Joico Intensity: Pink front hairline/ highlight: 50g. Soft Pink + 10g. Violet Pearl
Conditioner 1: 1⁄4g. Wella Professionals Elements Renewing Conditioner + 1⁄4g. Fanola No Yellow Shampoo + 1⁄4g. Joico Color Intensity Semi- Permanent Lilac
Conditioner 2: Equal parts Wella Professionals Renewing Elements Conditioner + Joico Color Intensity Semi-Permanent Blush
Divide the hair into quadrants. Starting with the back two quadrants, foil 1⁄4-inch slices.
Apply Trionics 10-vol. lightener 1⁄4-inch away from the roots [where the previous platinum started]. Tip: Place a cotton strip where the lightener meets the old platinum to prevent overlapping.
Starting with 10-vol., work your way up to equal parts 10- and 20-vol. in foils. Once the foils are in, quickly apply a thick layer of 20- vol. lightener at the roots. "I chose to do this process to the back half of the client's head and rinsed it out before working on the front two quadrants because her hair is fine and lifts easily," notes Rush. "Doing a color correction this way takes time but from my experience, helps keep the hair healthier."
Using a spray bottle, quickly apply Redken Shades EQ 25g. 9V + 25g. Clear + 10g. 9N toner to the 4 inches of new blonde. Process for four minutes, and then drag it through the ends for one minute.
Apply Formula 1 a 1⁄2-inch away from the roots and color-block the underneath section of hair at the nape. Then in the vertically placed foils, alternate Formulas 1 and 2 with 1⁄2-inch spacing through the whole head. Process for 30 minutes.
After rinsing, formulate color conditioners to tint the blonde that was left out.
Apply Conditioner 1 from roots to mid- sections, and Conditioner 2 from mids to ends. Process for 15-20 minutes.
TIP! "I love to cut my clients' hair dry first to see how the strands naturally lay and to reduce the amount of color used," says Rush.
[Images: Courtesy of Rachel Rush]
This story first appeared in the January issue of Beauty Launchpad. To receive the magazine, click here to subscribe.