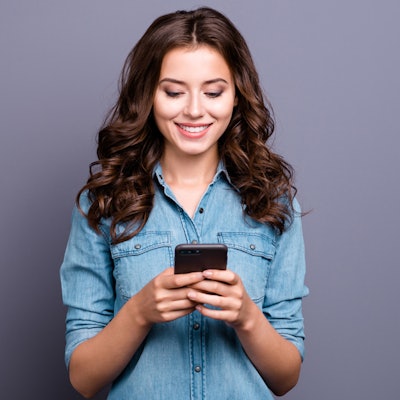 Text message appointment reminders can help salons reduce no-shows while improving the bottom line, as well as promote customer loyalty. Here's how.
Client no-shows not only have a negative impact on a salon's bottom line, but they also hinder stylists' ability to utilize their time efficiently. One effective tool to tackle the problem: text message appointment confirmations and reminders. "Text messages are less intrusive than phone calls, and the open rates are higher than with emails," says RJ Horsley, president of payment processing company SpotOn, which offers an appointment-scheduling software solution for service-oriented businesses like salons. "Text messaging also gives clients an easy way to communicate with the salon in case they need to reschedule, ask a question or add other services to their appointments." If utilized correctly, the practice can reduce no-shows by as much as 40 percent, says Horsley. To ensure the best results, follow these text message communication tips designed to help salon owners book more appointments, reduce administrative work hours and keep clients coming back.
RELATED: The Best Video Editing Apps for Creating Engaging Content
1. Implement Appointment Software. "Text messaging software should be integrated with fully functional appointment booking and scheduling software," notes Horsley. "This allows automation, meaning text message confirmations are automatically delivered after a client books an appointment and reminders are automatically sent out leading up to the appointment."
2. Mind Your Frequency. Clients are bombarded with a daily onslaught of information coming at them from a variety of sources. Avoid having them tune you out by minimizing how often you send text messages, but making sure the ones you do send are effective by sharing pertinent information.
RELATED: How To Make Great Instagram Stories
3. Keep Text Messages Clear and Brief. Make sure to include the date and time of the appointment, your address and a contact number.
4. Include a Call to Action. Ask your clients to respond to appointment reminders for maximum impact in reducing no-shows. "For example, asking the client to reply back with a 'Y' for 'yes' allows you to confirm the appointment and prevent downtime," says Horsley.
5. Make it Easy to Reschedule. Send a "thank-you" message after appointments, along with a link to your online booking portal, to make it simple for clients to book their next appointments.
6. Use Text Messaging for Marketing. Too. Send clients deals, discounts and promotions that will encourage them to return to the salon. "[Salons] are finding that text messaging is helping them create more personal connections with their customers, ultimately helping forge deeper loyalty," says Horsley.
[Image: iStock Photo]
This story first appeared in the December issue of Beauty Launchpad. To receive the magazine, click here to subscribe.