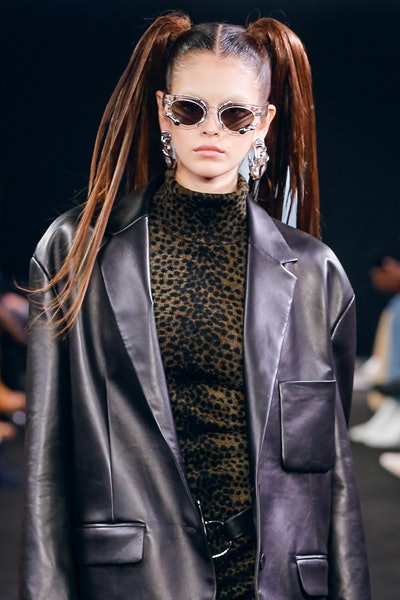 Everyone can agree that pigtails instantly shave years off one's appearance. What they may argue is that they're too perky, too silly, too childish for a grown woman to wear. To that, runway artists thumb their noses. Witness the high-flying pigtails at Alexander Wang, where Dyson hair lead Duffy shellacked glassy extensions with loads of hairspray (a cocktail of L'Oréal Professionnel Infinium and Bumble and bumble Does It All Hairspray) and then flat-ironed 2-inch sections into razor-edged shards that clapped at one another as the models stomped. Or the Harajuku girl-inspired pigtails at Junya Watanabe, brilliantly buoyant and modeled as they should be: in groups of two. Low-slung, mile-long twin braids at Prada have captured the lion's share of the media's attention for the pigtail trend, but other braided duos, like the high-contrast knotted and twisted ropes by ECRU New York creative director Lisa Lobosco for Videmus Omnia and the rainbow-bright multi-braid pigtails by Oribe hair lead Kien Hoang for Nicole Miller, certainly merit double the love, too. Will this fearsome twosome take the place of the ponytail? Likely not, but they're oh- so-fun—and worth doubling down on.
[Images: Imaxtree.com; Getty Images]
This story first appeared in the December issue of Beauty Launchpad. To receive the magazine, click here to subscribe.