JCPenney recently unveiled Penney's, its reimagined, brand-new store just outside of Dallas in Hurst, Texas. The store is experiential at its core and a direct result of what today's shoppers want from a retailer. "Our customers are at the heart of everything we do," says JCPenney chief executive officer Jill Soltau. "They told us that they want a retailer that reflects their lives, makes them feel good about themselves, is fun to shop and truly understands the important moments in their lives, big and small. We bring that complete experience to life at our brand-defining store." Soltau continued, "this store is more than a renovated location, it is the fullest articulation of our customer-centered strategy, an investment in our future and a lab to inform decisions to return JCPenney to sustainable, profitable growth."
We spoke with Rachel Jud, vice president, Salon Division, to see how this new concept store will impact the hair side of things. 
How does JCPenney feel that a customer-focused approach will help stylists working at The Salon by InStyle?
As a business built on delivering an incredible experience, salon is thrilled to see the entire store make an even deeper commitment to the service we offer our customers and clients. My challenge to the salon team at Hurst has been, how will we level-up our service? If we want to differentiate ourselves, we will continually need to find ways to go above and beyond. This is true also when we think about how we are serving stylists. We are always asking ourselves how we can solidify and strengthen our position as the best place for stylists to serve their clients.  
A couple of specifics include the addition of our barber shop, The Barbery, which lives completely separate from salon adjacent to our men's department. We've also added a space within this location's The Salon by InStyle dedicated to offering incredible blow outs. This is allowing us to provide employment opportunities to different kinds of beauty professionals than have typically chosen our salons as their home. From barbers, to nail techs, to newly graduated cosmetologists, we want to be a place where beauty and grooming professionals come to both grow as individuals and connect with their clients.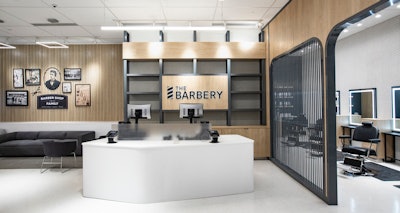 How is The Barbery differentiated from the rest of The Salon?
The Barbery is its own dedicated space with four barber chairs and is adjacent to the men's fashion floor. It was important to us that this new concept fill whitespace in the market, which we identified as a place where people of all ages and genders can feel comfortable receiving barbering services. The brand nicely walks the line between traditional and modern. I'm really proud of the team that brought this to life and believe that they hit the mark of what the customer wants to see from us in this space.
What services will be provided at The Barbery? Will you be offering cuts and style, or will shaving also be incorporated? If so, are you looking for licensed barbers?
We do employee a handful of barbers today in our existing salons, and we are always looking for professionals that want to join our family! As for our services, we offer cuts, shaves and color in The Barbery. See here for the full menu: www.jcp.com/barbery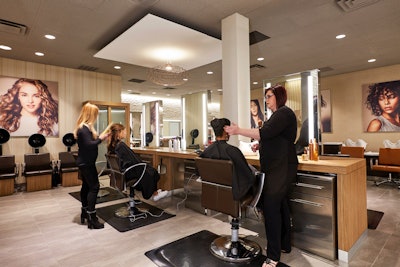 Does the JCPenney app allow users to book salon/barber services with specific hairstylists? And will they be able to schedule blow-outs via the app, or will they be walk-in based?
Yes, customers can book appointments via the app with the stylists/barber of your choice. Blow outs will be available on both an appointment and walk-in basis. We've also added a new position to this store: Blow Dry Specialist. This is the perfect role for stylists right out of school who don't feel ready to offer the full breadth of our services, but see our salons as a place they want to be a part of. It's also a great fit for any stylist who has a real passion for styling and blow outs.  
Is the Shutterfly Selfie area located near the salon so stylists can easily snap photos of their clients after their new haircuts? Or is it only designed for client/customer use?
The full portrait studio experience from Lifetouch + Shutterfly, including the Picture Pop! is located on the store's second floor, right above the Salon by InStyle. We encourage all of our customers to take advantage of the flagship experience, but we also have "selfie mirror" that allows clients to capture their own before-and-after photos right in the salon!
Style + Substance offers customers complimentary lifestyle workshops on a variety of topics, such as how to achieve the perfect blowout or smoky eye. Will Style + Substance customer trainings be ongoing or at certain times? 
They will be ongoing, the schedule is available online and in-store. This space was designed to give our customers and clients the opportunity to learn more about the different topics they are interested in. From "Mini Me Styling Class" to learning what the big deal really is about the hot kitchen appliance of the moment in a "Air Fryer Demo," to meeting a social media star hosting a styling session or meet and greet—there is something for everyone. And the best part is that it's free and something we believe will add real value to the community.
For more information and to browse openings at all The Salon by InStyle locations, please visit jobs.jcp.com/search/salon-professionals/jobs