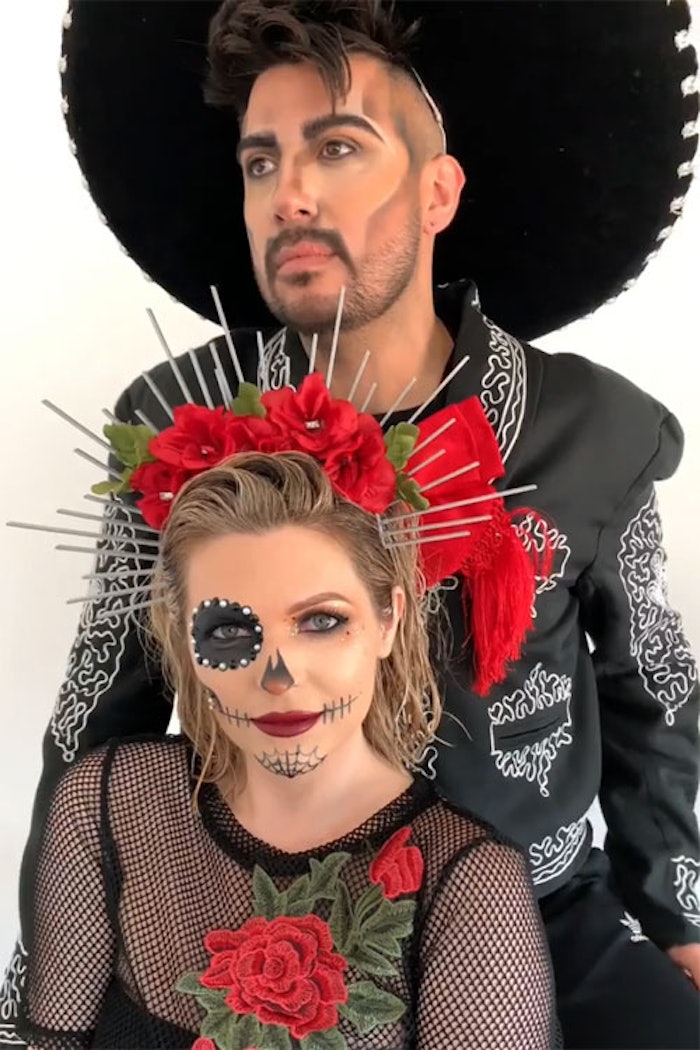 It's Halloween next week and the perfect time of year for all you hair stylists to share your hair tricks and treats on your social media channels with your followers and even better, potentially gaining new followers. How you ask? Whether you have a ton of followers or are just starting out, collaborating with others not only steps up your A-game on your completed look, but it also has the potential to bring over followers from those that you collaborate with. The hashtag #halloween has over 72M posts and the hairstyle isn't the only thing that brings the Halloween costume to life. Collaborate with a makeup artist to create a look that will cause all the thumb scrolling on Instagram to come to a screeching halt. The makeup stops people in their tracks and the hairstyle is the icing on the cake that pulls it all together. Make sure to create step by steps and if possible, film the entire process and edit it down for IG Stories, IGTV, YouTube content and more. Collaborate with and hashtag as many people as you can from the makeup brand, the jewelry company, the eyelash brand and accessory brand.  All the brands you collaborate with will also post on their channels and your completed look will have more potential views, clicks and shares than if you just post it on your own feed.
This doesn't just live and die with a holiday such as Halloween, it consistently occurs in the world of social media and moves quickly through other relevant holidays and current affairs. Think along the lines of #HolidayHair, #CoachellaHair and more! Content moves fast and so should you! The window of opportunity you have to make a connection to the current trend circulating is limited, so don't wait to post your content on the day of the trending topic, get ahead of the game and inspire looks in advance. 
This is especially helpful during a content-saturated time of the year when there is an influx of posts and you want to increase the chances of your content being visible. By creating valuable industry focused content and taking advantage of trending hashtags, it allows you to connect yourself and your brand to relevant conversations that will increase your visibility. Within just a few clicks, an avid audience is already searching for their holiday, festival and trending hair topic inspiration and your work can be accessible to them. 
The digital team at Sexy Hair worked well in advance to generate not only the assets they needed for Halloween, but to find a great makeup artist, Alex Faction, and two influencers as their models to collaborate with. It took time and planning to not only to conceptualize the looks, but also the methods in which they would be sharing the content. Each of them posted content on their social channels and the timing, hashtags, and captions were all carefully timed and choreographed to make sure they directed traffic not only to each other, but also other social media platforms, such as YouTube, for the full look. By doing so, they were able to share with their followers Halloween content all month long keeping them highly involved in the social conversation as well as potentially inspiring some fun looks. 
The easiest way to keep rolling out trend worthy sharable looks and save you precious time is by creating a social media editorial content calendar. Outline and identify a variety of dates and holidays that speak to you and that you would want to share your work. Consistency gives the stylist the opportunity to stay top of mind and timely for the types of content you're creating for your audience. As a hairstylist, you're essentially a small business owner whose goal is to get clients in your chair. Embrace the talents of others and collaborate, collaborate, collaborate!
–by Sloane LaMartina (Director of Digital Communications and Brand Experience for Sexy Hair)
[Images: Instagram]