A boho-sleek salon setting–plus opportunities working red carpet events–prepares cosmetology students for the working world at Neihulé Salon + Academy of Beauty. 
Inside Story
Husband-and-wife duo Atouzo and Yvonne Neihulé know what it takes to be successful. Opened in 2008 in Downtown Los Angeles, their flagship salon drew numerous celebrities and they quickly found themselves busy catering to the litany of events that being on the A-list brings—namely the Oscars, Grammys, ESPYs, and so on. But over the span of nearly a decade, the two recognized a dearth of fresh-out-of-school, salon- ready talent to assist them. "One thing we came across more often than not was how green some of these new beauty school graduates were," says Atouzo. He laments that often these newbies lack practical skills necessary for excelling, and become stuck in post-school assistant programs for two—sometimes three—years, and in some cases, eventually burn out and leave the industry altogether. To change this, the duo opened Neihulé Salon + Academy of Beauty in 2018. "We wanted to create an academy where students aren't only taught how to pass the State Board exam, but also ... to get them 'salon-ready' by the time they graduate," he says. Their answer: what Atouzo calls a "hybrid" concept where salon and school mesh, and cosmetology students attending the Academy work in tandem with seasoned stylists during eight-hour-a-week externships in addition to their regular curriculum. "Our students have a chance to assist and learn hands-on new and on-trend techniques and ask questions from seasoned stylists as they go through our programs," he thrills.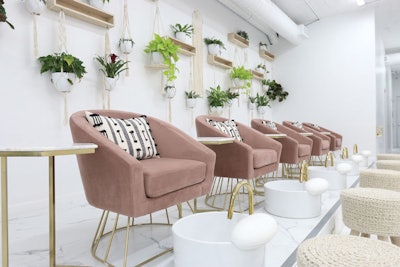 Opened in the Fashion District of Downtown Los Angeles—which Atouzo notes is central to many smaller cities in the county, making it highly accessible to students—the Academy sheds any sense of being a school; its high-end decor, designed by the duo, combines midcentury modernism with bohemian flourishes. "Our vision was to create a space that felt more like a posh salon instead of your typical beauty school," Atouzo reasons. "We also wanted to give the clients getting student services the same experience they would encounter paying full price at a high-end salon." To that end: Palette-cleansing white and lightly veined marble—which Atouzo says "stays in line with our signature style"—provide a pristine backdrop to gold hardware, vintage-style mirrors, birch and pinewood furniture, a rattan hanging egg chair and lighting fixtures, blush-pink accents, and high-contrast black signage and styling chairs. Copious amounts of plants—some hanging in macramé slings, others sprouting from the ground—further play to the California boho vibe.
While the luxe setting, mentorships and advanced education are definitely alluring, ambitious students with red carpet aspirations should take note: The Academy a affords them a taste of what working as a Hollywood "it stylist" entails, thanks to the salon's 12-year partnership with both the Oscars' and Emmys' Governors Ball. "Our students will be given the opportunity to assist or work on such events along with all the other award shows we do," Atouzo says. Upon graduation, students can audition to work as an assistant or stylist at Neihulé (with two more locations in the works) or, should they seek work elsewhere, the Academy of Beauty offers job placement with affiliate salons. Wherever they end up, they'll be ready.
What's Unique
Giving Back: Inspired after watching the documentary Good Fortune about Paul Mitchell cofounder John Paul DeJoria, Atouzo and Yvonne Neihulé created the Neihulé Family Foundation. "Our vision is to give free tuition to foster kids and rescued women from sex trafficking so that they can create a livelihood for themselves by becoming beauty professionals," says Atouzo.
Hybrid Power: Blending the trappings of a high-end salon setting with topline education gives students the practical experience necessary to hit the salon floor running come time for graduation.
Selfie Made: Clients can capture their hairstyle for IG with a glam backdrop: a giant, heart-shaped moss "living" wall emblazoned with a hot pink "I am Beautiful" sign.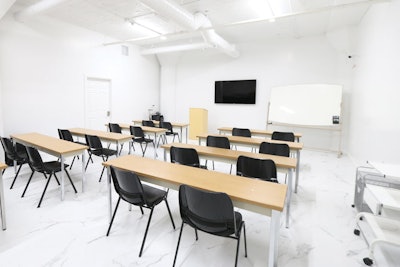 Retail Lines: Kérastase Paris, Kevin.Murphy, Bumble and bumble, Milbon, Moroccanoil and Brazilian Blowout.
Color Lines: Redken, Schwarzkopf Professional, Pulp Riot, L'Oréal Professionnel and Wella Professionals.
Plus
Refreshments: Champagne, wine, beer, coffee, tea, soda, and more.
Typical Clients: "Our clientele base is a mixture of business professionals, artists, the Hollywood industry, fashion designers, Downtown L.A. residents, and students," says Atouzo.
Be sure to follow  on Neihulé Salon + Academy of Beauty on Instagram. 
[Images: Courtesy of Neihulé Salon + Academy of Beauty]