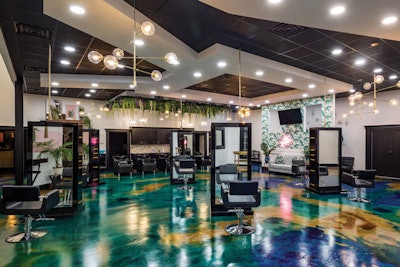 Inside Story
From the moment clients and staff interact with Studio 285 in Evans, Georgia, they come face-to- face with lions: Antique lion-head doorknobs sourced from Europe grant entrance to the highly stylized space, and a gold geometric lion head keeps watch behind the front desk. For owner Brittany Carrington, who started Studio 285 in 2009 as a one-room operation and has expanded it into the 4,000-square-foot beauty emporium it is today, the lion symbolizes everything she values in both business and life: strength, courage and leadership. "[The lion] represents who we are and, if you look closely, you can find the image of a lion hidden throughout the entire salon," says sister Amber Carrington, who joined Studio 285 as chief operating officer in 2012.
While lions prowl the space, it's the actual salon floor—a roiling swirl of greens, blues and copper— that commands the most attention. "Brittany gave a painter a Google Earth image of the Caribbean and told him to paint exactly that," says Amber of the stained concrete. Such otherworldly details abound in Studio 285: A striking six-foot chandelier was inspired by ones Brittany came across while visiting Universal Orlando's The Wizarding World of Harry Potter; galaxy mural walls with a glowing moon cocoon the color- processing area—a natural fit, says Amber, due to the orbital haircolor processors that resemble flying saucers. When clients recline to enjoy a toner rinse in the shampoo area, their view is one of lush tropical plants sprouting vibrantly from the ceiling à la the Rainforest Café—another Orlando, Florida, find. "Our guests love their view from the shampoo chairs," Amber thrills. en there's what the sisters lovingly dub the "oddity" restroom. "We crafted and collected all sorts of unusual items that are displayed; some we even found in our grandmother's home," Amber says, adding, "Walking through Studio 285 is like walking through Brittany's brain."
RELATED: Salon of the Month - STARRING By Ted Gibson, Los Angeles  
And what a quirky brain—but all of the flair isn't without function. Phone-charging stations at each color-processing chair allow clients to stay plugged- in while floating workstations grant easy clearance to make space for regularly scheduled education events, which Brittany encourages the 10 commissioned staff members to attend. "We only hire career-oriented stylists who understand that the work we do here isn't just about cuts, colors and hair extensions," stresses Amber. But, with all the design that the space boasts, she's quick to relay that there's more to Studio 285 than a pretty façade. "We have a passion for people and we appreciate that we get to be involved in some of the greatest moments of their lives. At the end of the day, it's actually not about the building; it's about the people in it," she says.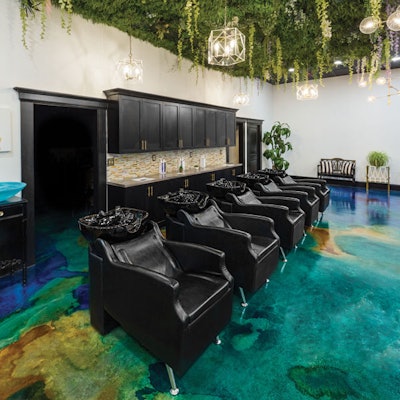 What's Unique
Selfie Wall: An expansive gallery wall with revolving art has become the go-to backdrop for selfies of clients sporting their new hairdos—a design element meant to appeal to the location's younger, tech-forward audience. "Our stylists and clients have helped make us 'Insta-famous,' and we love the endorsement they give us each time they post an image at our salon," says Amber.
Healing Space: To help bathe clients in positivity upon arrival, the exterior sidewalk contains large embedded healing crystals.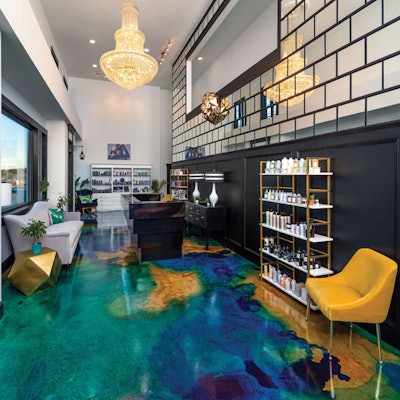 Plus 
Typical Client: Diverse, though typically younger with an eye for trendsetting beauty.
Most Popular Service: The Double Blow-Dry. A tag team of two stylists working on one client helps cut down service time. "When clients learn that two stylists can blow-dry their hair in half the time, they light up!" Amber exclaims.
Retail Lines: amika, Kevin.Murphy, Eleven Australia, Voce
Color Lines: Eufora, Kevin.Murphy, Balmain Couleurs Couture
[Images: Courtesy of Sally Kolar Photography]