Mark Townsend has been a force in the beauty industry for more than 25 years. From assisting renowned stylists like Oribe and Sally Hershberger in his early days to having his work showcased in magazines such as Vogue, Vanity Fair and Glamour, it's no wonder top talent—including Fifty Shades of Grey star Dakota Johnson—seeks out his red carpet glam. After Townsend and Johnson first collaborated back in 2013, the actress quickly became his muse, turning out many memorable beauty moments. Here, he handpicks a few of his favorite looks he has created for the star.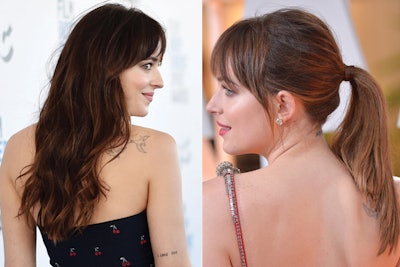 Left: "It was unbelievably windy in Santa Monica, California, that day so we went with a classic Dakota style: fringe and a soft wave. We also slipped a matching satin scrunchie on her wrist in case the wind got to be too much so she could pull back her hair."
RELATED: Takisha Sturdivant-Drew Dishes on Kerry Washington's Top Looks
Right: "This was Dakota's first time going to the Oscars. I used my thinning shears to give her bangs a choppy effect that framed her face. We played a lot with the placement of the ponytail because, to me, a low ponytail can sometimes be a little too sleek and a high pony can be a little too sporty."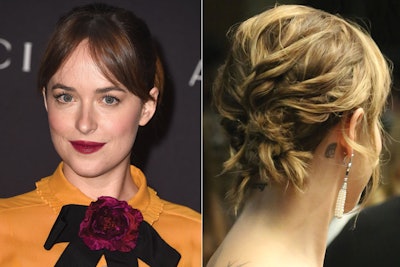 Left: "We decided to play up the cuteness and sweetness of this Gucci dress. We split Dakota's bangs and wrapped her hair in velvet ribbon to echo the dress' bow. It was her idea to do a ponytail and to go a little higher than we normally do, and I think it gave the look a youthful nod."
RELATED: Celebrity Hairstylist Chris Appleton Dishes on His Top Looks for Jennifer Lopez
Right: "Dakota was growing out her bob and her dress really called for a flirty, romantic updo. We used about 50 or 60 gold pins, and there was a moment on the carpet where she spun around a her hair sparkled so much that it almost looked like jewelry."
Left: "The back of the dress had a capelet and we wanted to make sure you could see that through her arms, so we did a half-up look to open up her shoulders. For the back, we braided the hair and pinned it in a way that almost looked like a rose."
Right: "Dakota was still filming Fifty Shades Freed, so she had extensions, which gave me tons of hair to play with—I grabbed pieces and started twisting, braiding and pinning until this shape appeared. I left her hairpins exposed so that the paparazzi camera flash reflected like sparkles."
[Images: Getty Images]
This story first appeared in the July issue of Beauty Launchpad magazine. To receive the magazine, click here to subscribe.