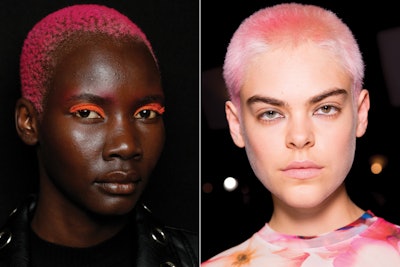 Pastel, color melted or electric: hair's declaration of dependence on fashion dye remains strong.
A tight crop generates buzz all on its own. But when it's tinctured cotton candy pink (at MSGM) or an eye-pulsing fuchsia (at Byblos) that short shock of hair transforms into an ever-more-dynamic statement. Such is the power of dye: A whole cadre of powdery pastel-topped mops at Marc Jacobs signaled a true shift toward utilizing haircolor as a storyteller. Dying 37 models in layered pigment—first a bleach lift, then a metallic base, followed by a pastel cast and concluding in a lived-in shadow root—Redken global color creative director Josh Wood pushed each look past the limits of what only five years ago would have been thought preposterous. " is is a color revolution. ... People are embracing color more and more now ... the fear of changing color is gone," he explains. Wood attributes the shift to product innovation—mainly that bleach no longer carries the same negative overtones it once did thanks to new formulations that keep hair's integrity intact.
RELATED: Prep Clients for Summer with These Go-to Hair and Skin Products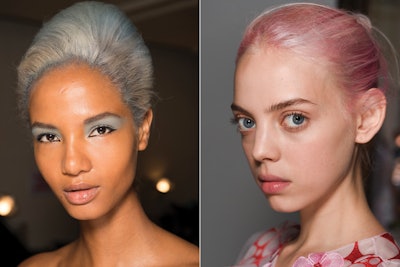 Of course, not all heads of hair wish to lift, and pigmented wigs and wefts certainly took up the charge here—in tie-dyed streaks meant to mimic the seven Chakras (at Collina Strada) and grandiose color melts on Marie Antoinette-esque wigs (at Vivienne Westwood). Whether permanent or transient, fashion colors' sway over hair continues to thrive on the runways and off—and we wholeheartedly pledge it our allegiance.
This story first appeared in the June issue of Beauty Launchpad magazine. To receive the magazine, click here to subscribe.
[Images: Getty Images]