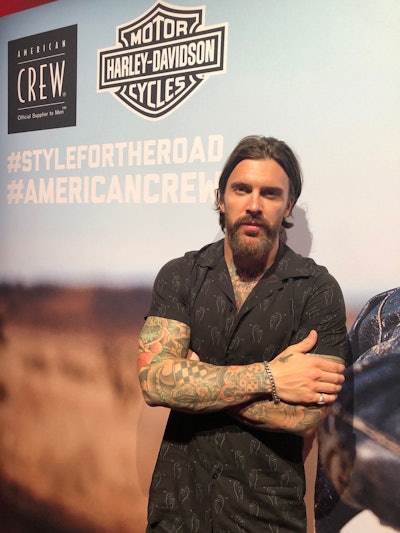 You know the competition is fierce when judges can't pick just one winner. Blade Pullman from Australia and U.S.-based Emma Jankowski were both recognized as front-runners of the American Crew 2019 All-Star Challenge, the first-ever tie in the history of the contest.
"This year's event not only marked American Crew's 25th anniversary, but also the first time the judging panel couldn't decide on just one winner for the All-Star Challenge," said Gillian Gorman Round, Global General Manager of American Crew. "The two winning styles from Blade Pullman and Emma Jankowski were so different but struck a unique balance, showcasing what we saw as the heritage, present and future of the American Crew man."
Pullman and Jankowski competed alongside 14 other stylists, selected from a pool of thousands. American Crew photographers, including the brand's founder, David Raccuglia, shot the contestant's final looks at MILK Studios over a two-day period. The winners were selected via a blind judging system, with their submitted photos ranked on a point scale to reflect creativity, technical ability and overall portrayal of the American Crew brand.
"It feels surreal to win this competition," noted an enthusiastic Jankowski, who prepared for the challenge by cutting hair daily and "going with her gut." "It's amazing, it's ridiculous and indescribable," added Pullman, equally excited to be recognized — especially as the youngest contestant.  "Take the chance and do it," both winners echoed, speaking to any potential applicants to the 2020 challenge. "You never know if you don't try," encouraged Pullman.
Pullman and Jankowski each received a prize of $10,000, an American Crew All-Star Challenge Global Champion Trophy, an invitation to become judges for the 2020 All-Star Challenge, a full scholarship to the new American Crew Education Program and a feature in an upcoming issue of Estetica.
The brand's creative director, Paul Wilson, noted that in addition to being a historic competition, 2019 is a pivotal year for the brand. With 25 years behind them, American Crew is looking forward to the future. "When I think about the next 25 years for Crew, it's just getting more exciting," he commented. "Men are getting more engaged and experimental — you've got every hairdresser and barber in the world fully on board to take this to the next level."
In addition to the announcement, attendees enjoyed a runway show featuring three diverse collections from the brand; Vynyl, inspired by a rock 'n roll lifestyle, Iconic, a textured and piece-y variation on a flat-top style, and Classic, a celebration of the traditional with a modern, textured twist — as well as live education on how to create a cut from each collection.
Levi Stocke, model, actor and American Crew brand ambassador was also in attendance and addressed his enthusiasm at representing the company to the audience. "Getting to work with David has been one of my favorite moments of it all," he noted of Raccuglia. "What he's done with the company has been incredible," added Stocke.
After an eventful program — complete with an awards ceremony, runway show and live education — guests headed onto a private chartered bus to close out the evening with a sunset cruise through the New York harbor.