The moment a hint of warm weather creeps in, everyone is ready to jump into spring—and after this unforgiving winter, we're all ready to say goodbye to warm smoky hues and hello to everything color! This season, makeup trends unanimously begin with beautiful, glowing skin and naturally flushed cheeks. After that, it's all about adding one statement style, whether a flash of orchid on the eye, a classic cat eye or a bold raspberry pout. We tapped top industry makeup artists to help translate the on-trend runway looks into real-life alternatives that will work both in the salon and on set.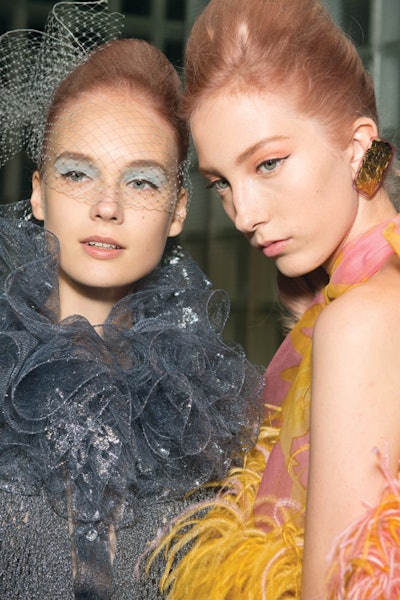 Soft & Subdued
Nothing says spring like soft, sweet pastel tones, and these watercolor hues offer much versatility. Keep one ethereal shade relegated to the eyelid, as seen at Marc Jacobs, or play with color by blending eye shadow into cheek color, even into brows, as seen at Anna Sui. "The key is to blend the colors to make it look like a monochromatic cloud," explains editorial makeup artist Johny Saade. In other words, the eye shadow needs to be blended so you don't see any hard lines, he says.
Wearable: Monochromatic The best way to make pastels look chic and modern, says celebrity makeup artist Jamie Greenberg, is to "keep the color on the eyes and cheeks." Her best tip: "Use the same color on the lids and cheeks to bring the whole look together."
RELATED: 6 of the Hottest Lash and Brow Trends for 2019
Editorial: More Is More Working with pastels on a shoot can be tricky. What looks intense in person can get lost once the camera lights come into play. "More is definitely more [when it comes to pastels], especially when you take lighting into account," says Saade. "Make sure your pastel colors pop, but at the same time are well blended so they'll translate on camera. If you don't use enough pigment, your model might look like she has nothing on her face," he warns.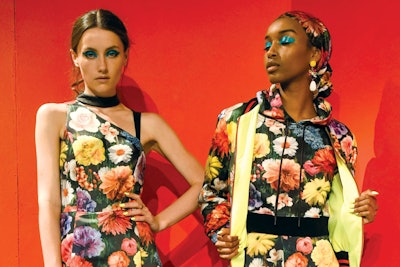 Color Wow
A pop of color on the eyes was one of the most popular ways to usher brightness into spring makeup looks. From a hint of grass green at Christian Siriano to bold fuchsia at Rodarte to glossy turquoise at Alice + Olivia, color made a big comeback on the eyelid. The key to pulling off this look post runway: "Keeping everything else on the face fresh and simple," advises Greenberg. After that, it's reading your client to find out what she's most comfortable wearing. "You can make bright colors wearable simply by adding a neon eyeliner, a splash of cream or powder eye shadow or even colored mascara," offers Saade.
Wearable: Blended Color It's possible to wear bright pops of color in everyday life; the key is to keep it from looking clownish. "The easiest way to do that is to use a cream eye shadow all over the lid. I love cream shadows because they have amazing staying power and are super easy to apply," says Greenberg. Or, pair the bold hue with a more neutral tone. "The best way to wear ultrabright colors is to ground them in a flesh tone," suggests John Stapleton, MAC Cosmetics senior artist. "Use a color through the crease of the eye that is two shades deeper to add depth, then lay the bright colors down. Build the intensity at the lash line and blend it into the flesh tone as you move toward the crease."
RELATED: In My Kit - Makeup Artist Anne Kohlhagen
Editorial: Pigment Power When working editorially, you have more opportunities to play with intense color. "Start by misting your eye shadow brush with a little water before dipping it into the shadow," recommends celebrity makeup artist Camille Clark. "This will prevent fallout and give you more control of the shape and more intensity in color," she says. You can also use the colors to get creative. Michele Ramos, cofounder of Rituel de Fille, loves bright colors with a graphic focus. "I like to use bright pops of color to define a particular part of the eye rather than an allover application," she says. "Don't be afraid to play, as these colors are all about fun. For example, apply aqua as a graphic winged liner and hunter green on the waterline."
Shimmer + Shine 
Anything shiny is always a crowd-pleaser, but this time metals are making a transformation. "Glitter has managed to make its way from kids' craft projects to fashion in a major way," muses James Vincent, celebrity makeup artist and director of education and artist relations for The Makeup Show. Luxe metallic lips were a showstopper at Jeremy Scott, and glowing metallic eyes made an appearance at both Versace and Tom Ford. "Every artist, from Val Garland to Pat McGrath, is bringing in [metallics] again this season," says Vincent. But it's not in the form of chunky craft- like glitter, as Vincent notes. "Metallics have evolved, as have the best ways to wear them," enthuses Ramos. "I've been reaching for finely milled, luminous and soft metallic sheens, which create more of a natural radiance when applied to the eyes and lips," she says.
Wearable: Feature Focus is trend translates best to real life by keeping it modern (think: more a fine- milled metallic sheen and less loose glitter pieces) and choosing one feature to focus on. "If you're going to do a bold metallic lip, then keep the eyes very clean—no eye shadow, just mascara and soft false lashes," advises Saade. "If you are going to do a glittery metallic eye, keep the lips nude; anything more would be overkill," he says. Subtle rose gold is extremely wearable on both eyes and lips, says Vincent. "And Stila gives glitter a fashion-forward look with its collection of jewel tones, glitters and metallics that are perfect for the pro or everyday makeup wearers," he notes.
RELATED: In My Kit - Makeup Artist Danessa Myricks
Editorial: Go Bold or Go Home When it comes to metals on set, the sky's the limit. "The more dramatic, the better it will translate on camera," says Saade. "So have fun with it." To keep it on trend and glamorous, Clark offers this technique: "Start with a cream shadow to create more depth and layer it with loose metallic powder; this will catch the light in a beautiful way. Paint the cream shadow on the upper and lower lid, slightly elongating the shape outward. Two shades of cream shadow will work best and give a contoured effect. Lightly dust the eye with metallic powder in a complementary shade to set the cream. Then, use a very fine pencil liner to define the upper and lower lash lines. To keep it modern, go for more neutral tones. Skin should be clean and flawless, and lips defined with a soft, shimmering gloss."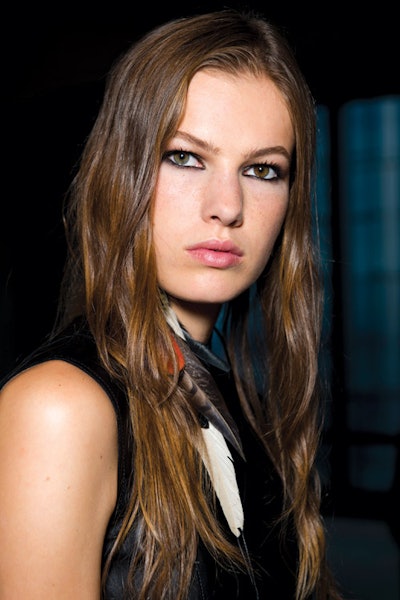 Lined & Defined
From cat eye to lash defined, putting the emphasis on the eye was a major trend this season. We saw bold kohl- rimmed eyes at Longchamp, while there was only a hint of black on the waterline at Tibi. Sies Marjan put the emphasis on the eyes by dotting the top and bottom lash lines with tiny falsie clusters for a high-fashion feel. "I love [a defined eye] because it's very wearable, classic and looks great on everyone," says Clark, which is likely why it heralded such prominence on the runway.
Wearable: The Softer Side "I love using a gel eyeliner to create a simple cat eye," offers Greenberg. "It's a classic way to make your eyes really pop." But if your client is looking for more subtle definition, she offers this tip: "Use brown eyeliner instead of black for a softer effect."
Editorial: Connect the Dots The difference between wearable and editorial is minimal for this look; it's really about connecting the liner on the top and bottom lash lines that can take this from street to set. "I like to use a soft, sharp pencil to trace the upper and lower lash lines and then connect the two," says Clark. "Slightly smudge and soften the outlines with a pointed cotton swab or small brush. I recommend setting the pencil with a powder shadow in a corresponding shade, or for more depth, you can use a liquid liner to set it."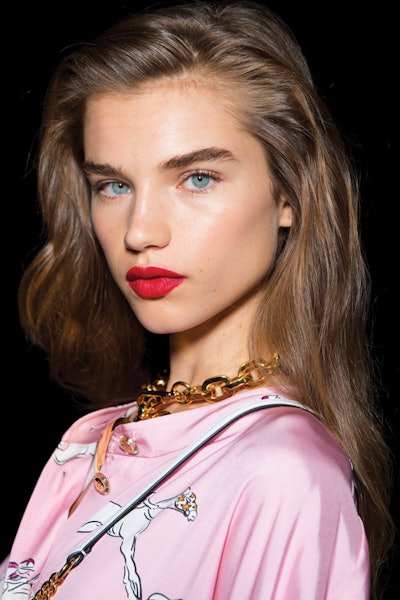 Trend Alert: Imperfect Red Pout
A clean face and clean eyes were punctuated by raspberry red lips at Cushnie et Ochs and Escada, among others. But what made the look fresh? The imperfect application of color that gives the effect of just-blotted lipstick. To achieve the look, apply color to the center of the lips, leaving a small margin along the edge. Then, use a small sponge-tip applicator or cotton swab to blend the color to the lip line.
This story first appeared in the March/April issue of Eyelash magazine. To receive the magazine, click here to subscribe.
[Images: Getty Images]