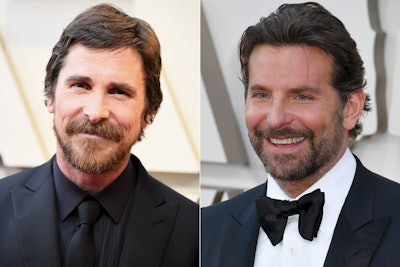 Christian Bale
Style created by Diana Schmidtke, celebrity groomer.
"I wanted to give Christian Bale an undone style that looked natural," explains Schmidtke.
Apply MVRCK Skin Tonic all over wet hair.
Air-dry. Then, apply a nickel-size amount of MVRCK Dry Paste onto hair.
Use MVRCK Skin Tonic to refresh and prep skin.
For his beard: Disperse MVRCK Beard Oil directly on a beard brush and evenly distribute product with fingers. Then, brush through facial hair.
RELATED: Jason Hall's Away Days Collection Mixes Color and Youthful Energy
Bradley Cooper
Style created by Natalia Bruschi, celebrity groomer.
"Bradley Cooper wanted a relaxed, styled-back look for the Oscars, so I decided to use the Redken Brews Cream Pomade to give him that effortless-looking finish," says Bruschi.
Prep hair by washing with Redken Brews 3-in-1 Shampoo, Conditioner & Body Wash.
Blow-dry strands until hair is fully dry.
Scoop a small amount of Redken Brews Cream Pomade and rub it between your hands. Then, rake your hands through the hair in a backward direction.
ock the style in place with LRedken Brews Hairspray.
This story first appeared in the Spring issue of MAN magazine. To receive the magazine, click here to subscribe.
[Images: Getty Images]