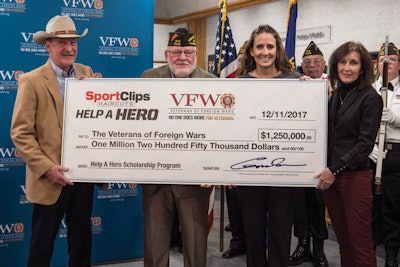 Sport Clips, which has more than 1,800 locations, is committed to giving back. Founder and CEO Gordon Logan, a U.S. Air Force veteran who served in the Vietnam War, is a member of The Veterans of Foreign Wars of the U.S. (VFW)— the country's oldest organization for major war veterans, founded in 1899. At VFW's headquarters in Kansas City, Mo., Logan recently presented a check for $1.35 million to support active-duty members and veterans through VFW's Help A Hero Scholarship program. The donation was the largest in the program's 11-year history. The money will go toward covering the tuition fees of student veterans.
The Help A Hero initiative began back in 2007, when Sport Clips first worked with VFW to provide phone calls home for service members and veterans. In 2013, the program transitioned to become the Sport Clips Help A Hero Scholarship, which to date has helped nearly 1,300 student veterans with grants of up to $5,000.
RELATED: Esquire Men's Grooming Barber Trevelle Baker's Modern Classic
"We've been doing this as a team with the VFW for over a decade and have put $5.5 million into these scholarships that have supported men and women in their education and training goals for so many sound professions," Logan says.
Sport Clips Haircuts also recently awarded nine scholarships to outstanding cosmetology students across the U.S. through its Access to Cosmetology Education (ACE) Scholarship program. ACE was created to provide financial support in the form of $1,000 scholarships to eligible, qualified students enrolled in the American Association of Cosmetology Schools. The program helps aspiring stylists learn new skills and training to further their cosmetology careers, and has awarded more than $66,000 in scholarships since 2012. Dedicated to helping students and veterans further their higher education, it's safe to say Sport Clips Haircuts is creating a brighter future for all.
This story first appeared in the March issue of Beauty Launchpad magazine. To receive the magazine, click here to subscribe.
[Images: Courtesy of Sport Clips]