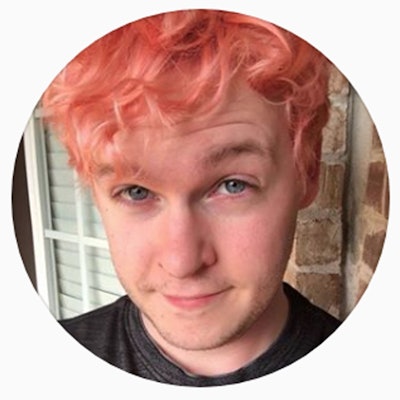 Josh Boynton's vivid before-and-after transformations and out-of-the-box color pairings have quickly built him a following on Instagram. Only a little over two years in the hair biz, Boynton is all about sharing what he creates, with full breakdowns of formulas and steps to achieve his looks. His tip for unique color hues? "If you're going for dimension, make sure that the shades are different tonalities," says the #mydentity Guy Tang educator. "When I'm looking to create dimension I formulate two levels lighter/darker, or use a warm and cool tone together. For example, two levels: 6A (Ash) and 4A (Ash)."
RELATED: Rising Star: Hairdresser Brian Hickman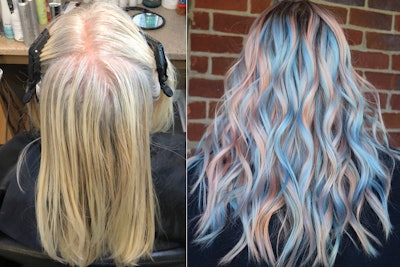 Josh Boynton shares how to achieve this head-turning color combo.
RELATED: Rising Star - Hairdresser Saretta Bowerman
Base hair with #mydentity 8NI permanent color, adding a small amount of Dark Shadows to create a shadowed root.
Process hair for 35 minutes for full gray coverage.
Pre-tone blonde mid-shafts and ends with #mydentity Guy Tang 5-Minute X-Press Toner in Titanium to cancel out any existing yellow.
Blow-dry the hair until it's 100-percent dry. +Apply and alternate between #mydentity
Guy Tang Superpower in Cosmic Coral and Vibrant Pastel Arctic Blue, taking 1-inch subsections throughout the hair.
Process for 20 minutes under a warm dryer.
Rinse hair in cold water.
Blow-dry and style with a 1-inch curling wand.
Color Insp:
"The inspiration came to me on the spot," says Boynton. "My client gave me creative freedom to do whatever I wanted to her hair. I was really trying to think of something that I haven't seen before. I love the idea of taking colors that we don't normally see together in hair to tell a story."
This story first appeared in the March issue of Beauty Launchpad magazine. To receive the magazine, click here to subscribe.
[Images: Courtesy of Josh Boynton; Instagram]