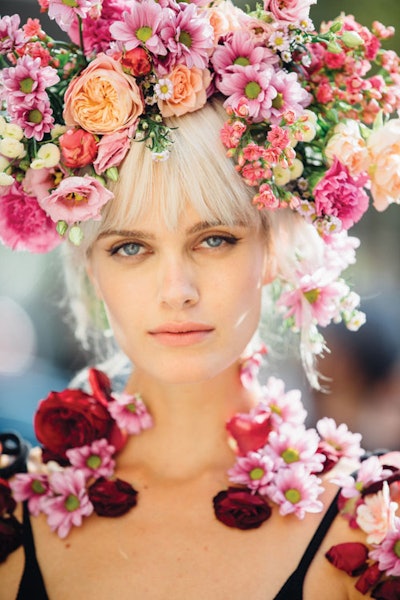 Pluck a flower, a leaf, a twig: Upon close inspection, the structure presents complexities so uniquely beautiful, they'll take your breath away. That same concept springs eternal for flora fused with hair; its breathtaking singularity is best cultivated to suit the individual wearer. "In a rose garden, every rose is unique and different," says Odile Gilbert, who crafted 46 one-of-a-kind rose-strewn hairstyles, some of which bloomed with upward of 100 blossoms, for the Rodarte show. She continues, "the hair follows that idea: Each look is different, but with the common theme of sophisticated yet undone texture." Decidedly daintier, the daisy-dotted locks Bumble and bumble global fashion director Laurent Philippon planted at Mansur Gavriel follow a similar thread: "Everything looks natural and effortless, but it's extremely calculated; we study every single girl down to each individual strand of hair," he says, allowing that each daisy finds its place through pure intention. Such distinctive beauty must have been on Philippon's mind this season; at Gypsy Sport, he wove sprays of fronds, sprigs and succulents through manes, each sprouting in its own way. "With the hair, we're embracing each model's individual style and the 'natural state of being,' so we turned to plants to symbolize our organic roots," he explains.
PHOTOS: Schwarzkopf Professional's #REdefiningyou Collection Takes Inspiration from the Runway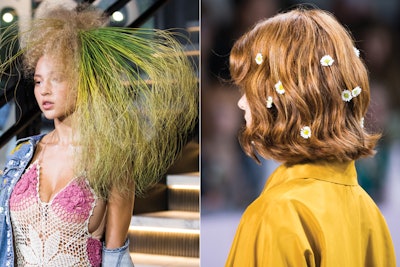 Depending on how lush (Dolce & Gabbana) or fine (Mansur Gavriel) you want your hair garden to grow, aim for longevity with smart tricks that will keep your look from wilting.
RELATED: Kevin Ryan's Modernized Waves at Tadashi Shoji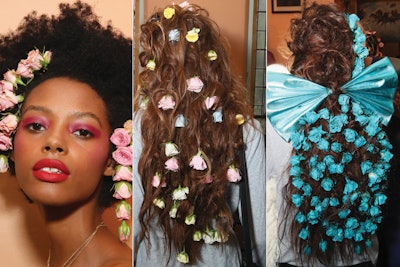 Rodarte's Garden
Odile Gilbert's dreamy creations bloomed brightly through their beauty and invention: The looks were achieved by running a string through the base of real rosebuds, which allowed for superior adhesion and styling flexibility.
This story first appeared in the March issue of Beauty Launchpad magazine. To receive the magazine, click here to subscribe.
[Images: Getty Images; Gypsy Sport; Mansur Gavriel]