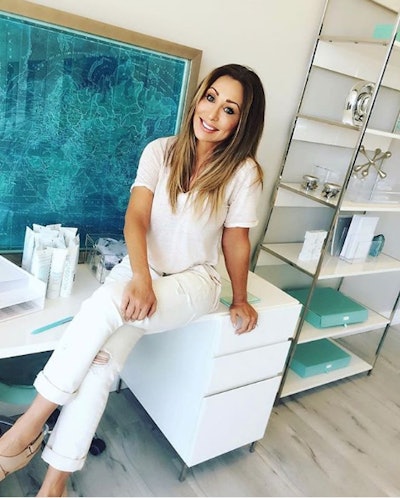 Tina Owens, HALOCOUTURE founder, passed away on Monday, March 4, 2019 after suffering cardiac arrest. "Thank you to everyone who prayed for our precious @tinaaowens. She was so creative, loving, kind, and so much more," the company wrote on their Instagram page. "Tina put her whole heart and soul into HALOCOUTURE and changed so many lives by giving women confidence and helping people feel beautiful. Tina referred to everyone that worked beside her and wore a halo, her "Angels". Now, Tina is our Angel. And we will forever be reminded by her beauty and grace when we put our halos on. Please continue to pray for her family during this difficult time. She is so loved by so many."
In honor of her legacy, below is an article from September 2013 written on her and the company she had just founded. 
SoCal-based Tina Owens has come a long way since her initial foray into beauty—working for Revlon as a makeup artist and account coordinator for regional department stores. Trained in maquillage right out of high school, she always loved the beauty industry and sales. In her early 30s, she'd already begun to scratch an ever-persistent entrepreneurial itch, founding a company that manufactured permanent makeup pigments. "I've always loved making women beautiful, helping them feel good and seeing their transformations," Owens relates. "When starting my own business, I was fearless for some reason—I just do it scared, and that's always worked for me.
Owen's innate talent for ascertaining—and swiftly meeting—needs in the industry found her eventually selling the company and creating the first teeth-whitening solution marketed toward the beauty industry. She later semiretired to a South Carolina beach community, but it wasn't long before she sniffed out another opportunity. "I couldn't get traditional hair extensions, so I started investigating alternative methods," Owens recalls. "I learned that a monofilament design was developed in the 1960s, but no one was doing it anymore."
Hence, Halo Couture (halocouture.com) blasted onto the scene in 2009 from humble beginnings: a sewing machine birthday gift and a single hairpiece that her sister sampled (and raved about). At a 2010 trade show, she sold out of her first 100 pieces, and demand soon found her graduating to factory production. Sales have doubled and tripled annually, and the company has recently forayed into new products like The Extender (an attachment that adds layers and volume) and a full wet line for extension care—all while Owens juggles full time studies at a Bible college and raises three teenagers. "I've always been a visionary with products, and my husband, Brent, is great at implementing my ideas; we're a husband-and-wife team that's found success in working together," Owens muses. "But my favorite part of starting Halo Couture has been the compliments we receive; if you talked to our customers, they'd say our products are great—but more importantly, that we really care." —Tracy Morin