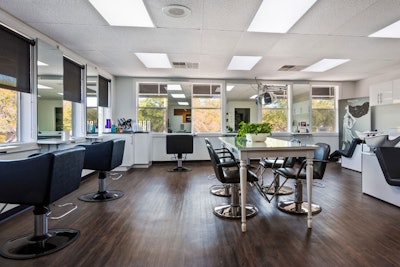 To celebrate 30 years of business, Salon Ingá looks ahead with a streamlined yet inviting update.
Thirty years of business is a remarkable benchmark for any entrepreneur, but for Inge Handing, owner of Salon Ingá in Tampa, Florida, it marks what she hopes is the midway point. "We're arriving into the next 30 years on-trend and fresh!" she exclaims. That freshening up comes via a full salon redesign to celebrate the three decades of hard work Handing, who emigrated from Austria at age 22, has poured into her salon. Gone are the bulky cabinets, oversized front desk and space-sucking furniture; in their place white lacquer cabinets and minimalist workstations lend the space a streamlined appeal. Also lightening up: the color palette, which shifted from darker hues to almost exclusively white. To keep Salon Ingá from feeling too clinical, Handing installed hickory- tone wood flooring throughout and added cozy elements, like a plush button-tufted sofa and chair and a feature wall of distressed corrugated tin, to the waiting area. "I wanted our reception area to have more of a living room feel with dimmed lighting to keep it peaceful and relaxing while clients wait," she explains. Further upping the cozy appeal: Ditching the previous large islands, Handing introduced "community" tables akin to what you'd find in a dining room—with the idea of sparking conversation and a communal appeal. "We do mostly chemical services at these stations and we took the mirrors away, which, believe it or not, our clients love! They appreciate not having to stare at themselves with color on and are able to chat with one another or use the table as a work station," she says.
RELATED: Readers Choice Awards Winners 2018 - New Launch, Haircare, Styling and Extensions
With the redesign finished, Handing admits that the next 10 years will see her minimizing her time behind the chair in order to focus on a passion she brought with her from Austria: education. Having adopted the commitment to education she learned as an apprentice (she still speaks with her old bosses in Austria to this day) and spending more than a decade educating for TIGI, Handing is excited to launch her own "High Lights" training program that she's keeping mum on, but assures that staff—and, in turn, clients—will benefit greatly. She concedes that with education on her mind, her daughter, Tanja Catoe, who joined Salon Ingá in 2009 as a partner, will likely be taking more of a lead at the salon—but that's how you achieve longevity in this business. "Letting the next generation help keeps us moving forward, onward and upward," Handing smiles.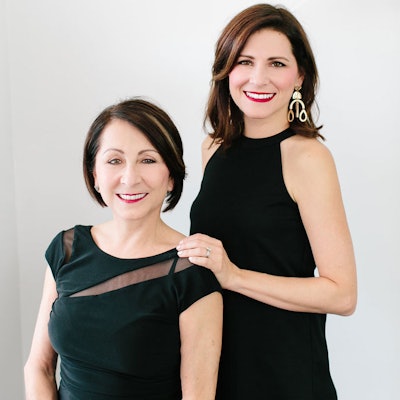 What's Unique
Education Options: Building upon what she learned as an apprentice in Austria, Handing brings that same level of top-to-bottom professionalism to her stateside salon. Staff learn all aspects of the business, including front desk and customer service, and can opt to train for a specialist or generalist position. "I want to make sure I give my team the proper tools to succeed in this business," says Handing.
RELATED: How to Renovate Your Salon on a Budget
Team Services: A tag-team ethos allows clients to experience the best of multiple worlds all at once. To wit: Clients can indulge in a facial while their haircolor processes or get a mani, pedi and haircut simultaneously. Clients can also opt for blow-dry services administered by two stylists in concert. "Our guests rave about our team blow-drying because we complete the style in a fraction of the usual time!" Handing thrills.
Communal Tables: Rather than staring at themselves at a station, clients sit at a community table while their haircolor processes, prompting conversation or allowing them to type away on a laptop comfortably.
Refreshments: Cucumber and lemon water, iced and hot tea, coffee, white wine.
Retail Lines: Kérastase, Repêchage, Keratin Complex, RevitaLash, Rikoko, among others.
Color Lines: TIGI, Artègo.
Typical Clients: The suburbs feed a steady flow of busy moms while the salon's close proximity to downtown serves up a large professional base.
Most Popular Service: High Lights, which uses a technique Handing created that "allows us to stay with the round of the head while doing a root touch-up at the same time and preventing overlap," she says.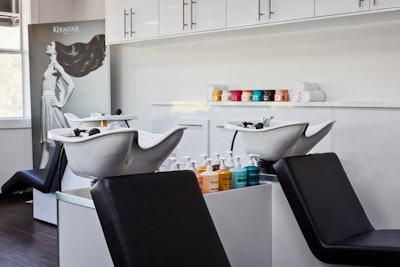 This story first appeared in the January issue of Beauty Launchpad magazine. To receive the magazine, click here to subscribe.
[Images: Courtesy of Salon Ingá]