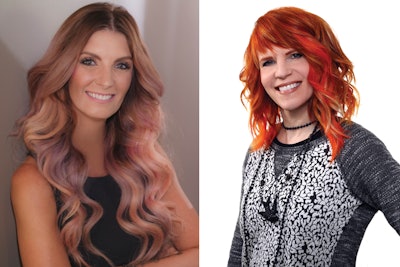 Great Lengths' new USA design team on continuing education and aspirational artistry for extensionists everywhere.
When Great Lengths' certified stylist network and impassioned extension pros clamored for continuing education on social media, the company listened. Helmed by Danielle Keasling (NAHA's 2018 Hairstylist of the Year and Great Lengths USA executive artistic director) and loyal educator Nanci Lee, the new Great Lengths USA design team promises to execute and instruct on inspirational designs, from campaigns, advertising and education to social events and show platforms. "We focus on conceiving, developing and directing the brand's vision of luxurious beauty, which influences our techniques and style," Keasling explains. "It's an exciting time for our team to learn and collaborate!"
RELATED: Meet the Individuals Behind Great Lengths USA, Kao USA and Conair
Of course, the newly formed team is also eager to establish and project a resounding voice in the industry that syncs with Great Lengths' image—what Keasling calls "the Rolls-Royce of hair extensions"—while solidifying camaraderie and connections throughout its network of certified stylists and salons. "We want to have the ability to support salons that invest in us, and do so on many different levels, from salon support, stylist certification and standards to beautiful inspirational and commercial imagery," Keasling details.
Meet the Team
• Great Lengths USA executive artistic director
• 2018 NAHA Hairstylist of the Year
• Skill savvy: Attention to detail, superb mentorship, a practical approach to business and stylists, plus endless inspiration and ideas
• Great Lengths USA senior design team director
• Senior stylist at B2V Salon in West Hollywood, California
• Skill savvy: Eighteen years of Great Lengths experience, including 11 years as an educator; BFA in Fine Art inspires balance in the craft of hair sculpting, color work and extension design; vast experience with photo shoots, TV shows, social media events, industry magazines, and celebrity clientele
RELATED: Meet the Individuals Behind the Industry's Leading Brands
Rounding out the team are three creative ambassadors:
• Brittany Diebling specializes in color-blending with extensions.
• Alejandro Lozano is from iStudio Salons in Fort Lauderdale, Florida, and joined the Great Lengths USA education team in 2007.
• Harmony Carney brings her fun, fresh, style-savvy approach for a new perspective on building clientele with Great Lengths.
Heads Up
Psst! Look for upcoming customer appreciation/education events from Great Lengths, plus certification programs with team members throughout the country. "We love to wine and dine, so these events are definitely an opportunity to immerse yourself in our culture," Keasling enthuses. "We're also looking at creating more opportunities with influencers, as well as new salons and clients seeking an elevated, luxurious service."
[Images: Courtesy of Aerial Lifestyle Productions; Shawn McKinra]