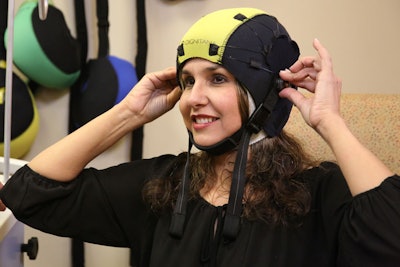 Amika partnered up with HairToStay to spread awareness about hair loss-preventing scalp- cooling technologies—and help make them available to cancer patients in need.
From selecting hairpieces to shaping the perfect post-chemo cut, when cancer strikes, stylists often play a significant role in helping clients feel their best. But many in the industry aren't yet aware of a life-altering treatment option for those undergoing chemotherapy: scalp-cooling technology, which can minimize hair loss during an already trying time. "For many women and men, the thought of losing their hair adds to the stress of upcoming chemotherapy treatments," laments Chelsea Riggs, brand president of amika. "Even the simple idea that you can still look and feel like yourself while managing cancer is a game-changer."
RELATED: The Dress Code Project Helps Salons Provide Safe Spaces for the LGBTQ+ Community
To help spread awareness about scalp-cooling technology—and raise money to provide these treatments free of charge to those in need—amika recently partnered with HairToStay. The nonprofit, founded in 2016, has built a nationwide subsidy program for scalp- cooling treatments (not covered by most insurance providers); since inception, HairToStay has raised $1.5 million-plus, awarding subsidies to more than 900 patients. Last October, amika pitched in by launching a fundraising initiative, donating one percent of its website's sales and $1 from every Detox Collection product sold in salon and retail partners to HairToStay, as well as promoting additional donations during online checkout. "When we learned about scalp cooling through HairToStay, it was shocking that, as a manufacturer in the hair industry, we didn't know this was an option," Riggs relates. "Many patients can't imagine paying for their medical treatments, let alone the additional cost of scalp cooling. That's where HairToStay steps in."
How Does it Work?
Scalp-cooling technology constricts the blood vessels in the follicles, exposing them to less hair loss-inducing chemotherapy medication. Chemotherapy's effects on follicles are further reduced thanks to slower cellular metabolism. These processes help prevent lock loss— and help patients maintain a sense of normalcy during treatment.
RELATED: Top Beauty Educators on Inspiration and Ongoing Education
Get Involved
Amika encourages salons and stylists to partner with HairToStay to raise awareness among clients about this treatment option as well as host events to donate services or tips to the foundation and facilitate client participation. "We hope that by driving awareness to this organization, more salons, stylists and companies will become involved, and our collective influence will increase the number of hospitals that make scalp cooling available," Riggs explains. "We believe this treatment option should be easily accessible nationwide to all eligible cancer patients, free of charge." For more info on how to help, visit hairtostay.org.
[Images: Courtesy of HairToStay]