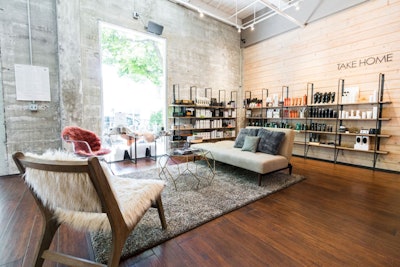 Inside Story
There's a story behind every location in the Kelly Cardenas salon network. Las Vegas was the birthplace of the first shop and remains dear to the stylist's heart as the first business to bear his family name. "My father was a Mexican immigrant who grew up in Utah," shares Cardenas. "He earned extra money picking fruit each summer, but always dreamed we'd one day be entrepreneurs." Chicago opened next, in part to satisfy his business partner's mania for Mario's Shaved Ice, a famed Windy City treat. Carlsbad, California, soon followed as a first anniversary gift to Cardenas' wife Brooklyn, who had always wanted to live there.
Now comes the new sixth addition: Framework Salon in Sacramento, California. The 2,500-square-foot space was formerly a yoga studio and still retains a sense of Zen. Large bay doors reveal an airy waiting room painted soft shades of silver, oatmeal and ivory. Couches are plush or draped in fur; freestanding bookshelves display Paul Mitchell products. "I didn't build it, so I can brag about how beautiful it looks," laughs Cardenas. He lent his design expertise solely to the color bar, which previously divided the space in a way that felt restrictive. Now it's open and a place for clients to chat, network and be transformed at one of four dye stations.
RELATED: Top Beauty Educators on Inspiration and Ongoing Education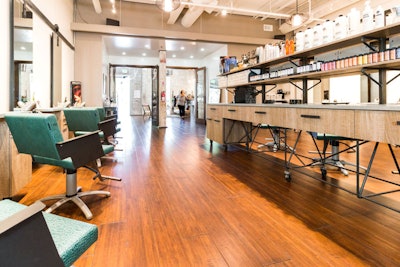 What's New
Roam Around the World: All eight cut and color stations are nomadic, so stylists don't get stuck working at a single site and guests are treated to a different view with every visit.
Right Fit: Typical clients are fashion-forward and looking for five-star service—sans the ego.
Vibe: Relaxed, urban chic.
RELATED: Just in Time For the Holidays, Stylists Reveal How They Achieved Their Celebrity 'Dos
Refreshments: Complete beverage bar offering specialty coffees, teas, water
Color/Retail Brands: Exclusively Paul Mitchell
Current Best-Selling Products: Paul Mitchell's Marula Oil Shampoo and Conditioner
Most Popular Hair Services: Balayage and highlights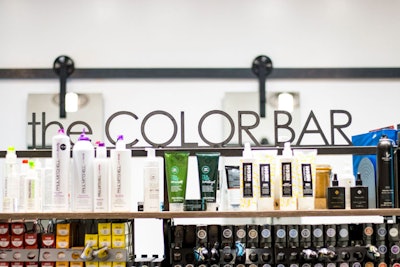 [Images: Courtesy of Steven Sandler]