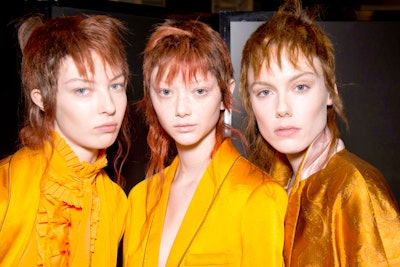 Business in the front, party in the back: Yep, the mullet certainly lives two very different lives. Perhaps this fact is what divides us—some view the shaggy cut as cool; others would rather it be banished from the hair annals altogether. The style certainly takes chops: Backstage at Haider Ackermann, hair lead Duffy brought more than 40 wigs that he painstakingly trimmed to accentuate the face shape of each girl, citing the punk counterculture as the style's reference and choosing it because the mullet projects a strong attitude.
RELATED: Top Beauty Educators on Inspiration and Ongoing Education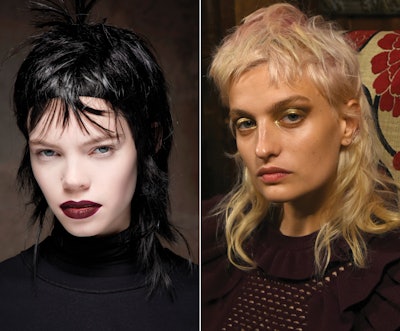 To match the largely gothic tone of Yang Li's mostly black collection, hair lead Anthony Turner outfitted a handful of models in inky sliced wigs that he roughed-up with plenty of gel and texture spray. The ease and nonchalance of the Jill Stuart girl came across not only in her hair, a tousled wave from the talented Odile Gilbert, but also the casting: Model Veronika Vilim (shown here) proved her platinum mullet isn't a relic of years past, but what helps her score work in the here and now. Yes, the mullet takes plenty of aplomb to pull off. But you'd be doing yourself a disservice to ignore its existence because it's apparently here to stay.
Today's Cool Girl Mullet
What you'll need: Shears, clippers and an eye for finessing the cut's silhouette to flatter her face shape.
[Images: courtesy of Getty Images and Imaxtree.com]