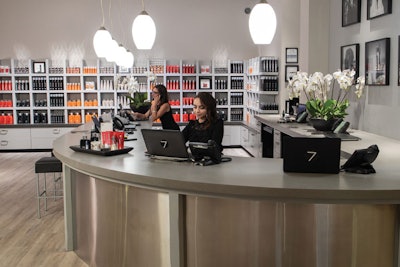 Like many success stories, this one has a humble beginning. Seven Salon started in 2003 as a small 10-chair salon in downtown Seattle's Hyatt Hotel. Today the impressive team of 65 hair artists operate from a 5,000-square-foot space in Washington's elite Bellevue neighborhood, home to luxe neighbors Tiffany and Tesla, among others. "Enter through our oversize double doors, and you're instantly greeted by a giant replica of a Robert Rauschenberg painting," informs general manager Monica Nguyen. The graphic artist was a famed founder of the pop art movement and his works served as inspiration for the look of the Seven haircare line, which launched in 2016. "Our stylists first created those offerings because they got tired of using heavy, sticky items designed for editorial," says Nguyen. Products are natural and touchable—practical for the everyday man or woman craving classically chic, moveable hair.
From reception to color bar, the salon itself maintains that same effortlessly modern aesthetic. Neutral-tone wood cabinets exist in easy harmony next to pieces constructed from natural gray stone, such as the eye-catching front desk. "Local designers and upholsterers custom-built and manufactured all of our furniture," shares Nguyen. Although the brand has grown, they remember their small roots, so supporting local business remains vital.
RELATED: Fall Hair Color Forecast: Rich Reds to Bold Brunettes
Ditto for promoting staff. "Whether assistant, stylist or front-desk employee, we invest in our people," says Nguyen. Along with a unique apprentice-training program, employees are further compensated when choosing to seek ongoing education. "We recently paid for 50 percent of a stylist's coursework at Sassoon Academy London," says Nguyen. And four-day workweeks are the norm so as to promote rested bodies and a healthy work-life balance.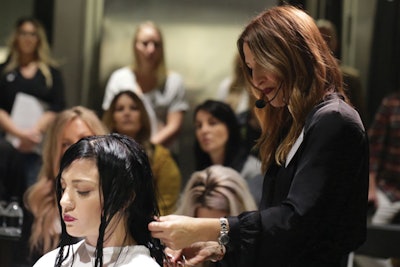 What's Unique
Groovy Cuts: A DJ spins high-energy beats from a booth 12 feet above the cutting room floor. "We steer away from top 40 and pop music, and gravitate toward boutique, indie playlists that set the pace and rhythm for cutting and blow-drying," enthuses Nguyen.
Consultation Station: Whether it's your first or fiftieth visit, every appointment starts with a signature consultation that considers a set trio of factors—bone structure, skin tone and eye color— prior to every snip and dye.
RELATED: Celebrity Colorists Share their Most In-Demand Formulas
Street Smarts: An in-house apprenticeship program teaches beauty school grads the nine foundation cuts (e.g., diamond cut, concave layers, the pixie) that comprise Seven's core educational curriculum plus advanced Wella Professionals color principles to morph every newbie into a master artist.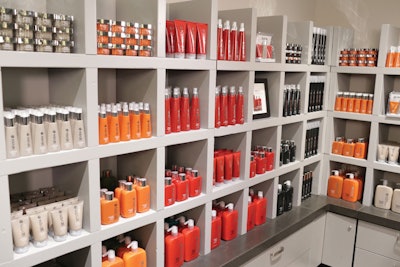 Business Boom
Here's a staggering statistic. Every month, Seven generates sufficient retail revenue to cover its salon rent. General manager Monica Nguyen shares tips for fellow stylists looking to be more lucrative.
Don't wait until the last minute. Suggest product at every point of service, from chair to checkout.
Don't be disingenuous. Today's savvy clients can tell the difference between real recommendations and an item being pushed to make a sale.
Don't work solo. Receptionists can support a stylist's endorsement with the personal anecdote of having used–and loved–a product. From front to back, function as a team.
Salon Highlights
Refreshments: Customizable espresso drinks, tea, water. Local vendor Seattle Chocolates served with every drink; flavors rotate monthly
Fashion: Guests are given a Seven signature kimono to change into after check-in.
Retail: Seven haircare.
Color Line: Wella Professionals.
Bestselling Products: Seven Bond Shampoo and Conditioner.
Typical Client: 90-percent women; typically working professionals, from teachers to tech execs.
[Images: Courtesy of Salon Seven]