We've rounded up some of the country's best barbershops and male-focused salons to give you a glimpse into what makes them so successful. From unique decor to attention to detail to training and retaining top talent, each shop has found its own path to success.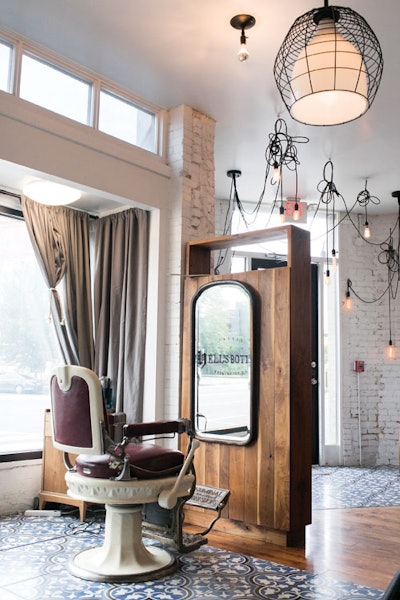 Details: 27 chairs; 4 locations in Washington, D.C. and Richmond, Virginia; stocks eDIT District products.
Opening in the Shaw section of Washington, D.C. in 2013, The Barber of Hell's Bottom got its name from the area's post-Civil War moniker. The shop relies on an "Americanized Wabi" decor, which juxtaposes the imperfect nature of materials and space with American- made luxury furniture—not to mention lighting that's specifically customized for the team of barbers. Each Hell's Bottom shop has taken on the characteristics that make the neighborhood it's in unique. However, no matter where they're situated, all are united through a pervasive fixation on hospitality, says owner Kelly Gorsuch. Hell's Bottom strives to break down the "all about me" barber mind-set and flip it, such that the focus is always where it should be—on the customer. There's definitely no room for divas at Hell's Bottom.
Best advice to other shop owners?
"Spend a lot of effort on your training program," says Gorsuch. "Making sure that your barbers are trained up is obviously beneficial to your shop, but it's bigger than that— making sure that you're passing on the best knowledge and skills for future generations to build on makes you a good steward of this age-old, honorable trade."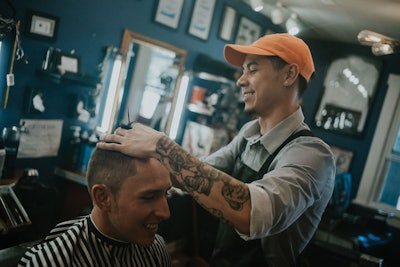 Details: 6 chairs; 1 location in Denver; stocks Spruce Brand, Eufora HERO and Reuzel.
Mid-century meets modern at Spruce, a must-visit Denver outpost created by husband and wife owners Taylor Romero and Becca Miller. Aspen trees, exposed brick and a medley of '50s furniture (both authentic and reproduced) work overtime, not only providing ambiance but hiding Jetsons-worthy tech—from iPad-controlled lighting in the fitting room to a services board that displays wait times. Tech integration is built into the Spruce ethos; it's all about enhancements. Using "SpruceBot," barbers are able to log detailed notes on clients, which helps guarantee satisfaction with every visit. Clients also participate, sharing their preferences on everything from products to their comfort level with idle chitchat. The underlying idea is to automate as much as possible so the Spruce team can focus entirely on clients.
When guests come to Spruce they also have the option to leave with more than just a new 'do. Style consultants are on hand to advise patrons on their best new look (the shop doubles as a clothing and accessories retailer), quite literally from head to toe.
RELATED: Essential Men's Grooming Tips for Summer
Best advice to other shop owners?
"Don't resist changes in the market—embrace them!" exclaims Romero. "From accepting credit cards, to using tech, to welcoming LGBTQIA clients, many barbershops aren't keeping up with the times and are only hurting themselves."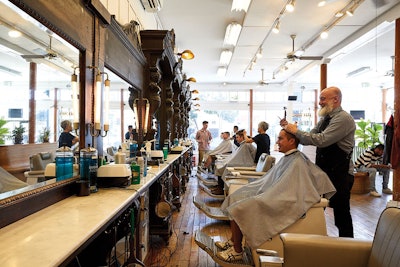 Details: 100s of chairs; 9 locations in New York and San Francisco; stocks namesake products, Fellow Barber.
Committed to preserving the tradition of barbering, Fellow Barber has definitely hit its stride. Comfortably tapping into a now developed consumer demand for barbershop subculture, Fellow Barber has opened nine shops in 13 years throughout New York and San Francisco. Each location is tailored to reflect the individuality of the staff, neighborhood and, of course, the diverse clientele.
Designed by founder Sam Buffa, each location is distinguished by one-of-a-kind elements that make for a great Instagram. Take the Valencia Street shop, for instance. The mahogany mirrors found here were originally made for the 1893 Chicago World's Fair; they then spent a century in a barbershop in San Marcos, Texas, where President Johnson was a regular during his college days. Or the gem on Market Street, distinguished by Heath Ceramic jade green tiled walls and stations, a white pool table, and Moroccan arched windows. Housed in one of San Francisco's few pre- 1906 earthquake buildings, it was built to survive and represents the resilience of the city. This mindful approach to design makes Fellow more than just a barbershop, but instead an integral part of the city and culture it surrounds and helps shape.
Best advice to other shop owners?
"Treat barbers better and they can treat customers better," says Buffa. "Customer service starts before the client arrives."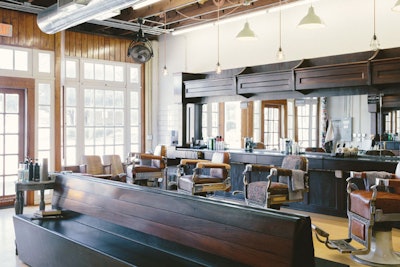 Details: 17 chairs; 2 locations in Houston; stocks Reuzel and Baxter of California.
RELATED: Sam Villa Guest Blog - The Barbering Renaissance
Quality is everything at Cutthroat, a neo-classic American shop with locations in the heart of H-town. After five years in business, An the barber-owned and operated outpost credits their success to dedication to the craft. All barbers are required to be proficient with clippers, scissor work and styling. A testament to the diversity of Houston, all barbers are trained to tackle every hair type and length. The diversity of the staff is another standout, says co-owner Brandy Chu, as the team's different energies join together for a definitive good-time vibe. Clients return for the complimentary beer and coffee, the great haircuts and, of course, conversation. With hints of a Texas saloon present in everything from the pew-like waiting bench to the mirror paneling and metal-lined chairs, this vintage-esque shop provides a nostalgia specific to the Southwest.
Best advice to other shop owners?
"Quality over quantity," quips Chu.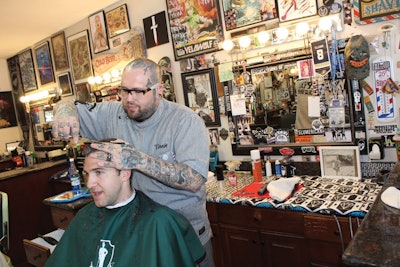 Details: 14 chairs; 2 locations in Southern California; stocks Bona Fide and Clubman Pinaud, among others.
Stepping into Proper Barbershop makes your rocker Spidey senses stand at attention. Poster-lined walls, stickers on the mirrors and merch from your fave high school band create an instant sense of nostalgia. All barbers are encouraged to make their station a sanctuary and decorate it accordingly, says owner Vinnie Morey. Art that represents each barber's individual taste does more than reinforce the bold sense of personality that comes across in Proper—customers are given an immediate idea of just who their barber is and where their preferences align (a definite Cliff's Notes for a conversation starter). Camaraderie is just one of the many stellar features of Proper, which considers itself an ever-evolving time capsule of Los Angeles culture.
Best advice to other shop owners?
"Never lose sight of what's important," Morey says. "We're here to service our community, and the true rock stars are those who trust us enough to sit in our chairs!"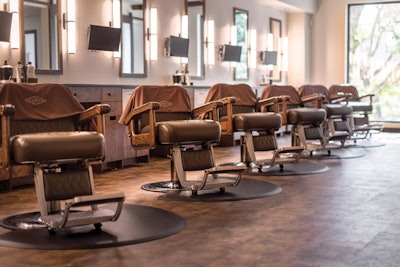 Details: 70 chairs; 7 locations in Kansas, Arkansas, Texas and Chicago; stocks Truefitt & Hill, Rascal, Lock, Stock and Barrel, and others.
RELATED: Q&A With Barber John Mosley, aka @popular_nobody
Founded by Ben Davis 10 years ago, The Gents Place was ironically borne out of an aversion for time spent in the barbershop. A change of atmosphere, however, made all the difference. Billed as a grooming and lifestyle club, the mission of The Gents is to assure guy's-guys that it's O.K. to spend time on their appearance, in the hopes that it will function as a confidence booster. With locations in four states, the formula is working. Gentlemen across the South and Midwest make their way to the sanctuary daily to network, groom and escape.
The Gents Place has all the trappings one would expect from an Old World club, from leather furniture, fireplaces, pool tables, wood accents and all the whiskey a man can drink.
Best advice to other shop owners?
"Be your most authentic self and blaze your own trail; it's not worth it to try to do what everyone else is doing," says Davis. "There's an acceptance in this industry for you to be your most creative self/brand. Everyone appreciates and respects an original more than a follower."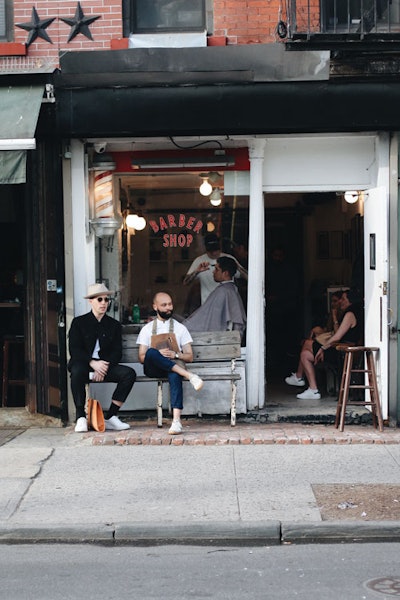 Details: 20 chairs; 6 Locations in Los Angeles, Chicago and New York; stocks eponymous line, Blind Barber.
First opening in the East Village more than eight years ago, Blind Barber has since expanded throughout New York, L.A. and Chicago. Known across the country as a good time, a full bar, food, tables, and a DJ on weekends gives every location an unshakeable sense of community. There's no need for FOMO if a physical Blind Barber isn't accessible to you—simply login. The barbershop strives to translate their IRL vibes into the online sphere through their social media and for-sale grooming products.
While all Blind Barber shops are super clean, bright, and have a bit of an industrial feel, the Culver City, California, station has a 1920s speakeasy style bar, while the newer Blind Barbers (including the recently renovated East Village original) are reminiscent of a late '70s/early '80s rec room basement. Comfort is key for kicking back and having a drink; knotty pine walls, a leather sofa, and '70s artwork make you feel as though you're hanging in your coolest friend's living room.
Best advice to other shop owners?
"Be authentic and focus on the people," says co-owner Jeff Laub. "Taking care of your employees and providing them with the tools to succeed is very helpful in growing a business. When the employees are feeling good, the messaging and experience for the clients is inherently better. As a business owner, it is important to continually evaluate (and try to improve) the customer experience. Also, be yourself and communicate!"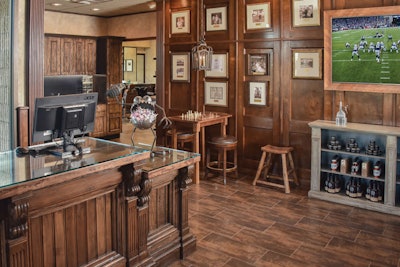 Details: 25 chairs; 2 locations in Knoxville, Tennessee; stocks Fuel For Men, 18.21 Man Made and Bosley Professional Strength.
Since opening in 2009, Frank's Barbershop has been a force to be reckoned with. Taking the title of America's Best Barbershop multiple years running, the Knoxville staple prides itself on its unapologetically masculine vibe. In a nutshell, Frank's is everything a man's man could ever want in a shop.
Customers are welcomed into the family as soon as they walk in: Photos of owner Frank Gambuzza's grandfather, parents and extended family line a paneled wall, repurposed from 100-year-old wooden doors. The waiting area is closer to a rec room than anywhere one would be forced to spend time; dartboards, a billiards table and sports or news on a big screen TV provide patrons with ample entertainment as they wait their turn. But make no mistake: Frank's is not a man cave. Stained glass above the table adds a splash of color and distinction, while a faux finish on the walls creates an aged, rustic atmosphere. The initial design goal for the space was to make it look and feel like Ralph Lauren's library, Gambuzza laughs, and that mission has definitely been accomplished. Of course, Frank's goes beyond the superficial. With a commitment to continuing education for all staff, barbers are expected to advance in skill and talent as part of their ongoing development.
Best advice to other shop owners?
"Always remember to hire great attitudes, not just great talent," says Gambuzza. "You can train talent, but you can't train attitude."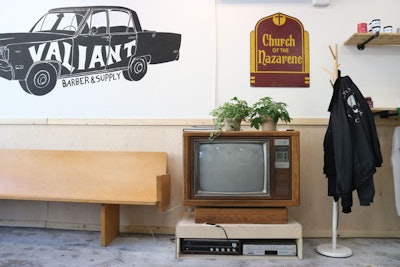 Details: 5 chairs; 1 Seattle location; stocks Midnight Oil and ADH Brand.
At the proudly minimal Valiant Barber & Supply, what you see is what you get. The shop is a "no-fluff" zone, where the experience is all about the customer and, most importantly, their haircut. With this zero-frills approach, the Seattle go-to doesn't rely on free booze, fancy TVs or SportsCenter to draw customers; instead, the focus is on great haircuts and conversation—and there's nothing to distract from the back-and-forth banter that makes this shop truly social.
Though happily far from decadent, Valiant incorporates elements of old-school kitsch that make it effortlessly cool. With a '70s-style TV, potted plants, a wooden waiting bench, an
'80s video game machine, and mint green and metal chairs, it's definitely a shop that feels like a return to childhood. The antique atmosphere is perfectly summed up by Valiant's vintage car logo; the shop got its name from the 1969 Plymouth Valiant (owner Collin Sells' favorite), which is emblazoned on both the wall and for-sale T-shirts, allowing customers to take a little bit of cool with them before it's time for the next cut.
Best advice to other shop owners?
"Don't try to be like another shop," states Sells. "Let your personality shine through."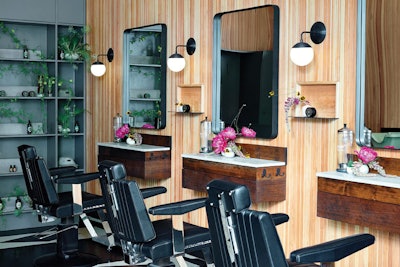 Details: 5 chairs; 1 location in San Francisco; stocks its own line, Church California.
The Church Barber & Apothecary aesthetic is pure and sensuous—the resounding philosophy of the shop is to just be, which makes stepping through its doors nothing less than Zen-like. "The beauty of life as-is" is a reoccurring theme at Church, with bio-elements re-emerging throughout, from products to decor. The barbers exclusively rely on the shop's own 100-percent botanical, natural hair and skincare line (made entirely by hand) from plant ingredients grown on the Point Reyes seashore in Northern California. At Church, even the space itself is basically living. The wood slats that line the walls are made of Douglas ⇒r, which changes colors with the turning of the seasons, literally setting the tone of the shop through nature.
Best advice to other shop owners?
"Surround yourself with a great team," says owner Ryan Gonzalez. "Church will always be larger than any one person or perspective—it's an ongoing collaboration between highly skilled artists in a variety of fields who all bring an element of genius to the vision. Love the people you work with, and love what you do. We wouldn't do what we do if we didn't love it."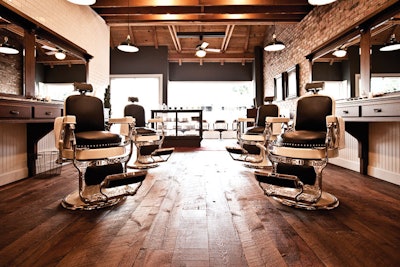 Details: 8 chairs; 1 location in West Hollywood, California; stocks Baxter of California.
The magic of Old Hollywood is alive and well at L.A.'s own Baxter Finley. Here, patrons enjoy all the decadence of high-end cuts without having to worry about a Hollywood attitude, says manager Sarah Healy. The staff is disarmingly nice and Baxter Finley takes pride in its palpable no-ego, relaxed vibe. While the attitudes may be SoCal chill, the dedication is far from it. High expectations keep the barbering team on top of their toes at all times. There is a mutual understanding among the staff that they are only as good as the last cut that leaves the shop—no matter who it's by, it's a reflection of all. With charming vintage accents throughout—like the 100-year-old Koken chairs made in Healy's hometown of St. Louis, to exposed brick walls, immaculate white tiles, and wood-paneled ceilings, one could easily picture Sinatra smoking a cigar while waiting for a shape-up in the classic barbershop.
Best advice to other shop owners?
"Hire the personality and train the skill," says Healy. "Stay close to your team. Keep your team motivated with contests and reward good behavior. Hire front desk staff with a background in sales. Keep work fun."
[Images: Courtesy of respective barbershops]