It's code red for Liza Espinoza-Achurra and Cherry Petenbrink's latest compilation.
For Moroccanoil international guest artist Liza Espinoza-Achurra and Joico global guest artist and Olivia Garden ambassador/educator Cherry Petenbrink's Paint the Town Red collection, the color crimson elicits a scarlet-fevered frenzy for onlookers. "The phrase 'paint the town red' is associated with celebration, partying, abandon, fun and excitement," enthuses Petenbrink. "In creating this imagery, our team hopes to elicit a similar joy in others."
RELATED: Winners of the Wella North American TrendVision Awards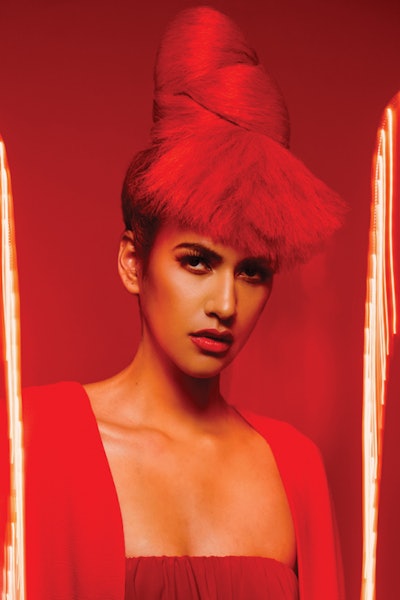 Higher than Heaven: This high-wrapped topknot and faux fringe ring fierce.
PODCAST: Pro Beauty Talks with Sonya Dove - A Talk About Authenticity
Crimson Peak: A flat, four-strand braid results in a striking side twist.
[Image: Photographer: Emily Gualdoni; Makeup artist: Isabella Maka; Hairstylists: Liza Espinoza-Achurra and Cherry Petenbrink]