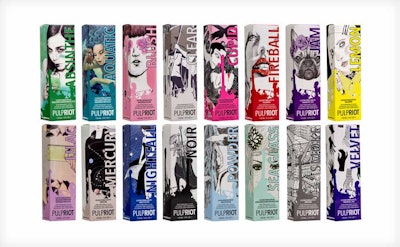 L'Oréal has finalized the acquisition of Pulp Riot, a professional haircolor brand launched by David and Alexis Thurston in the United States in June, 2016.
Since its launch, Pulp Riot has been transforming the professional haircolor market by creating industry leading content and using social media to effectively inspire and educate stylists across the world. To date, Pulp Riot has amassed over 675,000 Instagram followers.
Pulp Riot had net sales of US $11 million in 2017. Its largest distributor in the US is SalonCentric. The brand also started its international expansion.
Nathalie Roos, President Professional Products Division of L'Oréal, said: "We are thrilled to welcome the Pulp Riot teams and to amplify the international development of this iconic brand. Its unique creative artistry and stylist-powered education will inspire the entire division."
David Thurston, CEO and Founder of Pulp Riot, said "We're excited to join the L'Oréal family, the grandest beauty company in the world.  We believe this move will give Pulp Riot the fire power to accomplish our most ambitious goal for the brand. We are especially happy that so many of the loyal stylists who contribute to the success of Pulp Riot will have even more opportunities moving forward."
David Thurston will continue to serve as CEO and lead Pulp Riot from the company's Los Angeles headquarters.
[Image courtesy of L'Oréal]