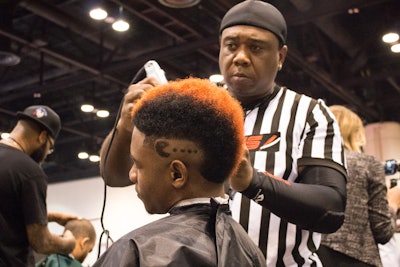 Licensed barbers, cosmetologists and students are invited to enter a variety of men's grooming events sponsored by Andis Company during the Premiere Orlando International Beauty Event. The five competitions – Fantastic Fades (professional event and student event), Limit-Free Style (professional event and student event) and Lioness (women-only competition) – will challenge contestants to showcase their clipper-cutting skills and artistic technique on Sunday, June 3 and Monday, June 4.
Conducted in partnership with Premiere Orlando, SalonCentric and Clubman Pinaud, the Fantastic Fades and Limit-Free Style competitions are open to men and women in both the professional and student categories to showcase their finest fades and creative vision. Contestants will be tasked with removing at least a 1⁄2 inch of hair, using their Andis tool package valued at over $150, to complete their haircut during the 40-minute timeframe.
"This is our third year partnering with Premiere Orlando to highlight men's grooming and the art of clipper cutting and each year it keeps getting bigger and better," said Bruce Bock, Senior Manager of Corporate Communications for Andis. "This year we're excited to add a new women-only event to our competition line-up and can't wait to see the passion and creativity that these ladies will bring to the stage."
The women-only "Lioness" competition will feature the fiercest female barbers and cosmetologists from around the country. They will be tasked with modernizing a vintage men's hairstyle from the 20th century (1901-1999). A male model is required for entry and contestants will also have 40 minutes to complete the final hairstyle using Andis tools exclusively.
Final judging criteria will include technique, originality, style, and tool usage. Professional winners will receive $400, while the second and third place finishers will receive $300 and $200, respectively. Student winners will receive $125, while the second and third place finishers will receive $100 and $75, respectively.
Cost for registration is $100 for professionals and $70 for students, and registered competitors will receive a complimentary three-day show pass to Premiere Orlando while participating models will receive a complimentary one- day pass. For more information about the Andis competitions, or to register to participate in the competition, click here.
[Image courtesy of Andis]